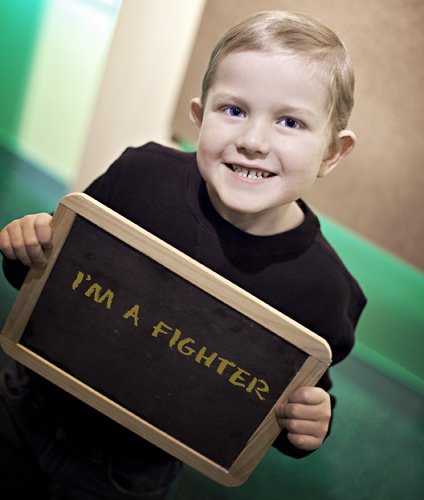 continued — The Kellys and the Henrys then got connected through mutual acquaintances, and, instead of participating in the Kitty Hoynes event this year as they planned, Nathaniel and his family will participate and get their heads shaved at the Cazenovia event as "Team Nathaniel," James Henry said. Nathaniel also will be the "honored kid" of the Cazenovia event.
Nathaniel is "a very fun loving little boy who most of the time is always smiling. He likes to play with cars, trucks, transformers and he loves school," his parents wrote on his St. Baldrick's webpage.
"If you see him you would never believe [he has cancer]," Nathaniel's father said. At first the cancer treatments were difficult for him, but now, "he's the most vibrant little boy ever meet in your life."
Once the Kellys decided to organize a St. Baldrick;'s event in Cazenovia, Sean, who is a chemistry teacher at Cazenovia High School, emailed the entire district and asked for everyone's support. Part of the idea of the event is to bring the school district and the community together as well, Erin said.
Since the event was announced and posted on the St. Baldrick's website in January, the response has been immense, Erin said. There are currently 52 people signed up to participate in the Cazenovia event, with more than $5,700 already raised as of press time. The fundraising goal of the Cazenovia event organizers was $5,000, but that amount was reached so quickly they have recently increased the goal to $10,000.
So many people have volunteered to help with the Cazenovia event, in fact, that there were not enough jobs to go around, so it was decided to do a bake sale during the event as well, Erin said. The sale is being organized by Cazenovia High School Vice Principal Susan Vickers, and all the proceeds will be donated to St. Baldrick's. There also will be a dj playing music during the event.
Vote on this Story by clicking on the Icon