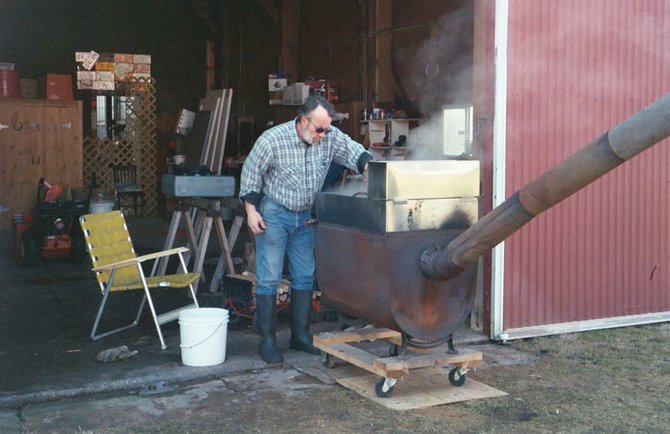 For most people, Valentine's Day calls for last minute stops to local flower and candy shops. For others, the holiday is a target date for an entirely different purpose, yet still yields sweet results: maple syrup.
Award-winning author Rich Finzer, who lives about 20 miles outside of Baldwinsville in a small town called Ira, began tapping sap for syrup in 1991. He says the weekend closest to Valentine's Day is prime time to consider beginning the process because the sun is typically high enough to heat the trees. Bear in mind, though, that if the temperatures fall too low, there is a need to wait.
"This year [the holiday] falls on a weekend, so I won't start drilling holes until Saturday," said Finzer, advising folks not to begin just yet if it's 10 degrees below zero, "because nothing's gonna happen — you need the higher temperatures and a little bit of that springtime sun to warm up the tree and make the sap begin to flow."
Another piece of advice: Don't start this week. In his book, "Maple on Tap," Finzer wrote a chapter titled, "Start Before you Begin."
"What I meant by that is it's going to take you a minimum of six months to get everything together that you're gonna need," he said. "So if you wait until the day before Valentine's Day to start, you're not going to have syrup. You have to have tools, you have to have someplace to store the sap, you have to have something to cook it down in. You gotta do a lot of prep work first."
Released in December 2012, "Maple on Tap" won the Benjamin Franklin gold medal award by the Independent Book Publishers Association in May of last year. Finzer's maple syrup has earned several ribbons in competitions entered at the New York State Fair, as well as the coveted Blue Ribbon in 1995.
(Continued on Next Page)
Prev Next
Vote on this Story by clicking on the Icon