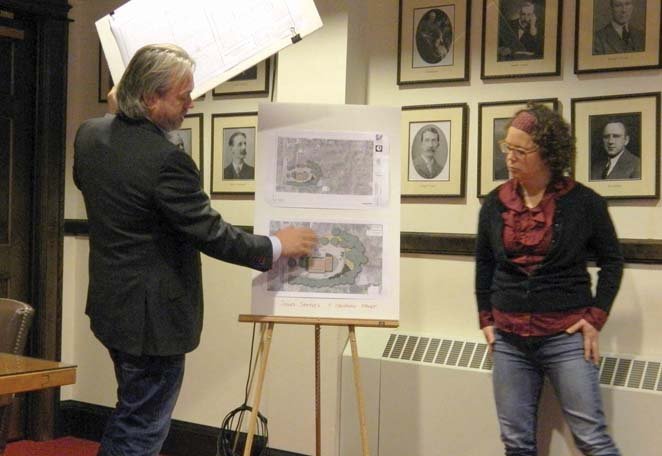 continued — Paul Curtin, a local attorney retained by Helen Stacy, the closest neighbor to Burrell's building, said Mitchell was concerned about all the possible ways the restaurant could impact her quality of life. "We all support progress and are in support of Circa, but if they move we have some concerns we would like addressed," Curtin said.
Neighbor Dick Mitchell said he was especially concerned about lights and noise on weekends, and does not want Circa to have live outdoor music the way the Brae Loch Inn does. Neighbor Sherry Abbot said her concern was the notion of Burrell expanding his building with the potential decline in occupancy that could occur over time and the "future deterioration" that could mean for the neighborhood.
Burrell, who not only owns the building at 4 Chenango St. but is also the largest tenant in the building, said he is "in business to keep this building full of people" and if the restaurant closes he would fill the space with business tenants – which make him more money anyway. He added that he and Hart have agreed on a 10-year lease should the project come to fruition.
Hart responded to the neighbors' concerns by saying that light, noise and odors have never been a problem – she has never had one complaint – during her eight years on Albany Street, and that includes the tenants who live in the space above her restaurant and those in the building next door.
"I understand these concerns. We've complied with them for the past eight years on Albany Street," she said.
Wheeler reminded everyone in attendance that the meeting was only the first step in lengthy approval process for the proposed project, and the public will have ample time to receive information and give input on this as it moves through the village board and the planning board for various necessary approvals.
Wheeler then made a motion to refer the Burrell/Hart proposal to the village planning board for its recommendation on whether or not the village board should approve a zone change for the 4 Chenango St. property. The motion was unanimously approved.
Jason Emerson is editor of the Cazenovia Republican. He can be reached at editor@cazenoviarepublican.com.
Vote on this Story by clicking on the Icon