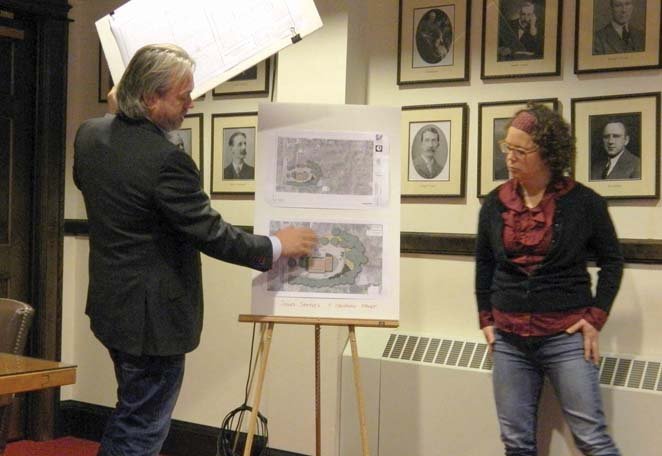 continued — Such a zone change would have to be considered and approved by the village board to be allowed, while the actual building addition or construction would have to be reviewed and approved by the village planning board, Stokes said.
In January, Hart said she is moving her restaurant simply because she must, and she has no plans to enlarge or change her business plan in any way, although she likes the idea of better parking and outdoor seating as envisioned by the Burrells and not currently available to her on Albany Street.
"I have no intention of changing my hours of operation or philosophy of how I do business or the character of my business," Hart reiterated on Feb. 3. "I'm simply looking for a change of location to conduct my business."
Eric Burrell told the board that he has spoken with the neighbors and he already plans to increase the vegetative barrier between their two properties to help block noise, and that he will certainly construct and operate the building in line with all village laws and ordinances. He said the waterfall in Chittenango Creek next to his property also creates a lot of white noise that would block out most any noise from his property as well.
He said all lights on the property will be dark sky compliant, and all public entry and exit to the parking lot and the building would be on the creek side and therefore away from the nearest neighboring homes.
The neighbors who spoke during the meeting all said they know and like the Burrells and Hart, but they still feel concerned about the noise, light, odors and traffic issues that could come to their residential neighborhood by the addition of a restaurant.
"I worry about what the next step will be," said neighbor Wallace MacDonald, who lives on Mill Street. "After the zone change, the next tenant could operate a restaurant wholly different than Circa."
Vote on this Story by clicking on the Icon