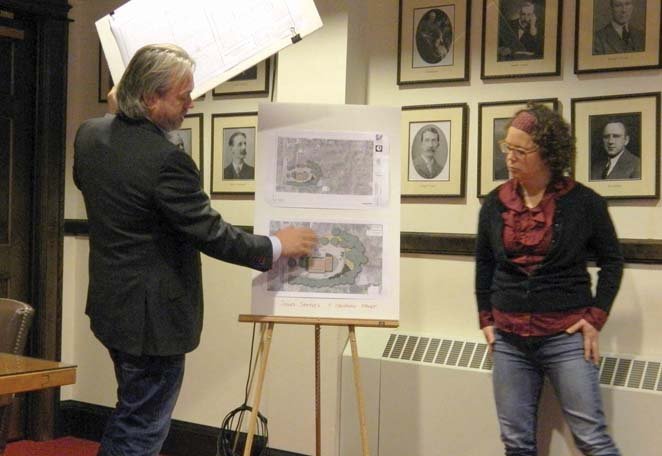 Cazenovia — The half-dozen or so neighbors of Eric Burrell's building at 4 Chenango St. — and an attorney that was representing one of them — all agreed that the know and like Burrell, Alicyn Hart and Hart's local restaurant Circa. And yet they all still have serious concerns about the possibility of Burrell expanding his Chenango Street building to house Circa's new location.
The comments, made during the Feb. 3 village board meeting, focused on potential light, noise, odor and traffic pollution from the restaurant, as well as a collective concern over what could "come next" in the space if and when Circa is no longer there.
"A lot of us have a lot of concerns," said Gayonne MacDonald, who lives on Mill Street. "I get nervous with zone changes and moving things off the main street. What if main street dies? … I just see us pulling away these chinks in Cazenovia."
Circa has been located at 76 Albany St. for the past eight years, but Hart, who leases the 1,200-square-foot space, said she and her landlord could not agree on a new lease agreement so she will move her restaurant to another location by the end of May.
Last month, Hart and Leanne Burrell, who owns the office building at 4 Chenango St. with her husband, appeared before the village board proposing the idea that the Burrells would build either a two-level, 2,500 square-foot addition to the back of the building or a two-story, 2,500 square-foot freestanding building at the back of the parking lot. The first floor space would be used by Hart for her restaurant while the second floor would be used for office space. Both levels would have patios, the one on the first floor would be outdoor seating for Circa.
At their initial January presentation, Hart and Burrell were told they would need to request a zone change to have a restaurant on the property, since it is currently zoned as an R-10 Residential District. Mayor Kurt Wheeler and Village Attorney Jim Stokes said a planned development (PD) zone seems like the most logical zone change to make.
(Continued on Next Page)
Prev Next
Vote on this Story by clicking on the Icon