East Syracuse — The inaugural East Syracuse Minoa Wall of Distinction recipients are Russ Brandon (Class of '85) and Tom Richardson (Class of '81). The pair will be honored by the East Syracuse Minoa Education Foundation (ESMEF) during an event on Saturday, March 8 from 7 to 11 p.m. at Justin's Grill in East Syracuse.
Russ Brandon is president and chief executive officer of the Buffalo Bills, while Tom Richardson is the longtime director of parks and recreation for the village of East Syracuse.
The Wall of Distinction was created to recognize distinguished alumni, staff and community members of the ESM School District who serve as role models for today's students and demonstrate the importance of making a contribution to our society, our community or their field of work.
Russ Brandon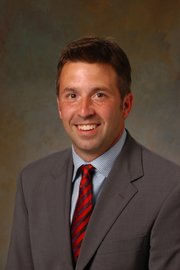 Brandon joined the Buffalo Bills organization in 1997 after beginning his sports business career with the Rochester Red Wings and Florida Marlins. By 2008, he became chief operating officer and general manager of the Buffalo Bills. Brandon is currently president and chief executive officer of the organization.
"His leadership and vision propelled him through the front office of the Bills," said Deborah Shannon of East Syracuse, who nominated Brandon and has known him for more than 30 years.
"He developed a strong base of strategic business and community partners, along with programs to connect the team with both fans and partners," Shannon said. "He spearheaded the effort to improve the game day experience for all fans, resulting in increased ticket sales."
Brandon is also a member of the advisory board for the department of sports management at Syracuse University, a member of the board of trustees at his alma mater, St. John Fisher College, and is involved in many charitable endeavors, said Shannon. He also sits on the NFL Business Ventures Committee and NFL Best Practices Committee.
(Continued on Next Page)
Prev Next
Vote on this Story by clicking on the Icon