Skaneateles girl scouts of all ages will be doing one of the things they are most famous for starting this week: selling cookies.
The nation-wide sale officially starts Feb. 1 and runs through the end of March.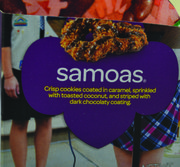 All Skaneateles girl scouts are part of the Skaneateles Service Unit, which is divided into troops for each grade level. Each troop will be conducting its own sale.
For troop 10029, composed of four kindergarten-age girls, this will be their first year selling the cookies. As with every troop, the girls put the money from the sales toward an activity of their choosing.
Troop 10029 decided on a trip to Build a Bear Workshop, their goal is to sell 220 boxes total — 55 per person.
Some of the older troops opt to save the money they make and put it toward a trip in the summertime, Troop Leader Amy Kehoe said.
Each troop also designated a charitable organization on its order forms and customers have the option to purchase a box of cookies to be donated to that cause. Troop 10029 will donate to the Chapel House Homeless Shelter in Auburn, while other local troops have picked destinations such as the U.S. military.
Though the young girls may not have much experience in salesmanship, that isn't necessarily a problem Kehoe said.
"The young girls are cute everyone wants to buy from them, it's the older girls who usually have to work hard to reach their goal," she said.
Though the scouts also do a fall fundraiser selling candy, nuts and magazines, cookies is their biggest, and most well known, way to raise money.
Each box of cookies costs $4. Of that, 97 cents covers the cost of the cookies, about $2 goes to the local council and the remaining $1 goes directly to the troop, according to Girl Scouts of the United States of America.
(Continued on Next Page)
Prev Next
Vote on this Story by clicking on the Icon