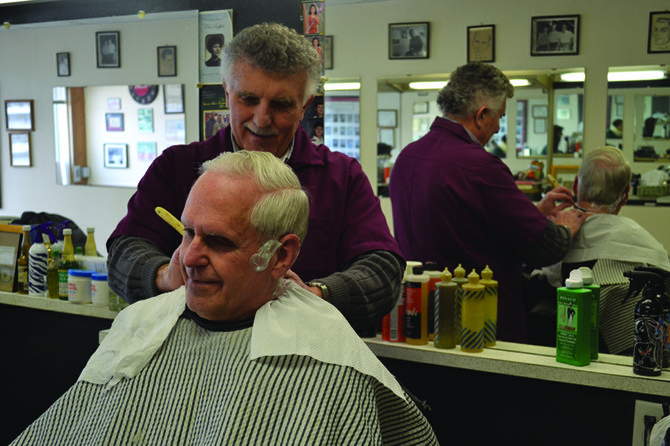 continued — After that, Rocky's Barbershop picked up many customers whose barbers had closed for good. And now, Rocky's is the only barbershop in the Fayetteville-Manlius area.
"Men love the barbershop – especially the World War II guys and the guys who were in Korea – they still like the old-fashioned way," he said. "Little boys love coming in here too. I think they like the idea of a man cutting their hair. They think because their father gets a haircut in here, they've got to get a haircut in here – it's exciting for them."
Bruce McMorris, of Cazenovia, has been getting his hair cut at Rocky's for more than 10 years, since his barbershop in Cazenovia closed. He said he likes the fact that Rocky's is all about the community and people who frequent the shop.
"My favorite thing about coming here? In one word, everything," McMorris said. "The haircut, the camaraderie – it's the total experience. The people who come in are nice and Rocky's a real gentleman and a fountain of information. It's not the kind of barbershop where they just want to chop at your head and take your money."
Rocky can't imagine doing anything else and said his favorite part of the job is talking with his customers. His favorite topics of conversation? Sports and American history – in fact, former Secretary of State Colin Powell's chief of staff is a current customer and he once had Powell call Rocky on the phone, knowing that he had great interest in history and politics.
"Interacting with the people is what you've gotta do, and if you're not good at it, you won't last – I don't care how well you cut hair" he said. "You have to interact with the people, you get to know them and their families. There are some families whose hair I've been cutting for three generations – one family, four generations."
Vote on this Story by clicking on the Icon