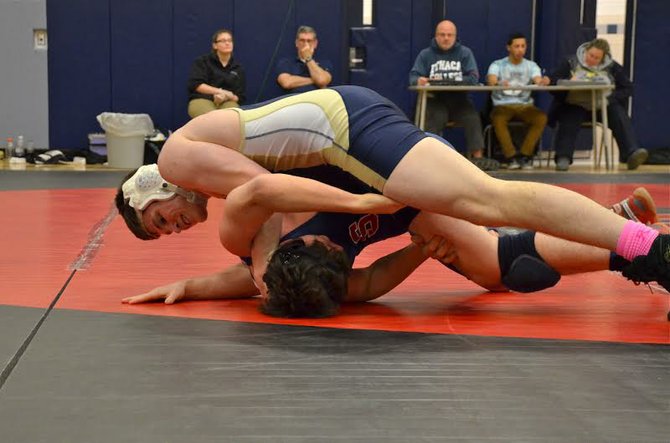 What has already been close to a dream season for the Skaneateles wrestling team had a chance to get even better if it could rise up and contend in Saturday's Onondaga High School League Liberty/National Tournament at Port Byron.
And the Lakers did have a strong performance, earning fifth place in an 11-team field with 155.5 points, just behind Marcellus (158 points), host Port Port Byron (160.5 points) and Hannibal (167 points) in a pack trailing Phoenix, who won with 207.5 points.
Maverick Janes, at 138 pounds, and Andrew Newton, at 145 pounds, both won. Janes pinned Colin Van Buren (Altmar-Parish-Williamstown) in 2:37 to reach the final against Fabius-Pompey's Billy Heselden, and that turned into a tight, tense bout that Janes won by a 3-2 margin.
Meanwhile, Newton also had a bye to the semifinals before he shut out Joe Riester (Port Byron) 5-0, setting up a title bout against Cato-Meridian's Kyle Spratt. Impressive from the start, Newton pinned Sprat 43 seconds into the second period to earn the top spot on the podium.
None of the other Skaneateles wrestlers reached the championship round, but filled up the other spots to gain valuable team points.
That included Josh Brillo, at 132 pounds, who pinned Phoenix's Zach Carlson in 2:48 to win the consolation bracket final and take third place after Port Byron's Cormac Green, the eventual co-Most Outstanding Wrestler (with Hannibal's Evan Salmonsen, the 99-pound champion), beat Brillo in the semifinals.
Connor Gray, who lost the 195-pound semifinal to Dan Phillips (Cazenovia) 9-4, recovered and pinned Cato-Meridian's Seth House for third place. Christian Daley got fourth place at 99 pounds, with Max Collier (113 pounds) and Mike Goetzmann (152 pounds) also finishing fourth.
Nevan Rourke (106 pounds) gained a fifth-place finish, with Joey Brillo (120 pounds) blanking Cato-Meridian's Darren Cook 6-0 in his fifth-place final and Francis Lombardi (160 pounds) earning fifth place when he pinned Port Byron's Gavin Kerby.
(Continued on Next Page)
Prev Next
Vote on this Story by clicking on the Icon