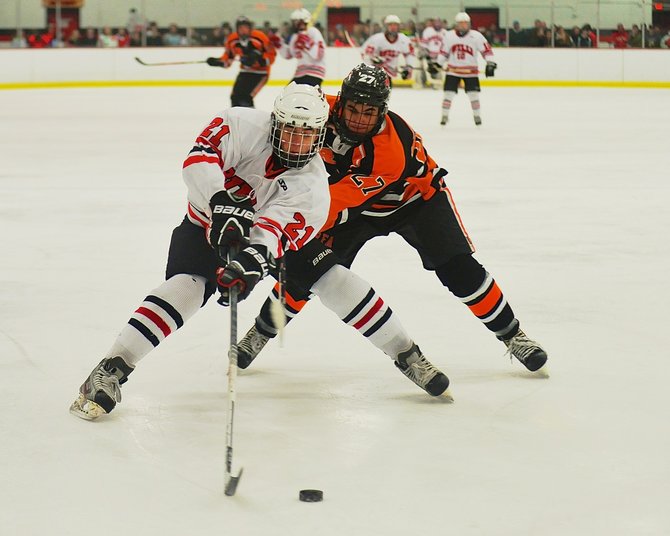 Though the Baldwinsville ice hockey team is safely in the field for the Section III Division I playoffs that get underway late next week, it is still meeting with various amounts of frustration.
Against Division I National Conference-leading Rome Free Academy last Tuesday night at the Greater B'ville Ice Arena, the Bees played well for large portions of the game, but paid for not finding the net early and late in a 4-2 loss to the Black Knights.
Back on Dec. 23 at Kennedy Arena, B'ville got close to a big win, but settled for a 2-2 tie. That was before RFA really got going, as its recent rise to the top of the National division coincided with an ascent to the no. 5 spot in the state Division I rankings.
Right from the start of the rematch, the Black Knights controlled the flow of play, using its speed and stick skills to constantly put pressure on B'ville defenders. Despite some saves from Nick Harper, the Bees trailed, 1-0, after one period.
Even though that trend continued in the second period, B'ville still managed to find the net twice, Sean Barron and Charlie Bertrand earning the goals as Garrett Gray, Adam Tretowicz, Tyler Weber and David Mazurkiewicz each got credit for an assist.
Despite this, RFA matched the Bees' production and still led, 3-2, going to the third period, and then added an insurance goal late as it overcame Harper's 26 saves. Four different Black Knights players – Drew DeBlasiis, Justin Hussey, Zach Olivas and Keegan Richie – had the four goals.
Going to the Twin Rinks on Friday night, B'ville met Cicero-North Syracuse and finally broke out of those doldrums, dominating from start to finish in a 6-0 shutout of the Northstars.
The Bees started strong, gaining a 2-0 edge by the end of the first periods, and didn't stop there, either, getting the margin to 5-0 by the time they reached the third period, far out of C-NS's reach.
Three different players – Gray, Mazurkiewicz and Matt Abbott – each finished with two goals, and plenty of teammates helped out. Matt Monaco and Mike Schneid both gained two assists, while single assists went to Barron, Tretowicz, Luke McCaffrey, Tyler Church and David Eckmann. The Bees' defense protected Harper, too, as he only had to make 18 saves for the shutout.
With its 7-9-2 mark, B'ville is nearly locked into third place in Division I's National Conference, and it closes the regular season with back-to-back road games against Mohawk Valley on Monday and Fayetteville-Manlius Friday night.
Vote on this Story by clicking on the Icon