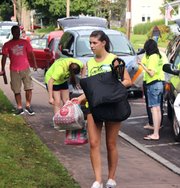 Cazenovia — Cazenovia village residents may have noticed there was a celebration of sorts going on last Friday at Cazenovia College, with blue and yellow balloons all over campus, music playing, Zac the Wildcat mascot walking around, students in neon yellow shirts everywhere and carloads of freshmen (and their parents) arriving and unloading furniture and boxes of dorm-room decorations. The smiles, hugs and little bit of nervousness visible on the college quad were all evidence that the college's newest student — the class of 2018 — were moving in for the start of the new school year.
"This is always a good day, everyone's excited," said Wayne Westervelt, vice president for marketing and communications. "We put a lot into welcoming our new students and making them feel like part of a new family."
Between 9 a.m. and 2 p.m. last Friday, Aug. 22, 333 new students — 283 of which were freshmen — arrived on campus to move into their rooms. Legions of "orientation leaders" — returning students wearing neon yellow shirts that said "Chaos Control" on the back — were on hand across the campus to help unload cars and carry personal possessions into the dorms, as well as to direct students and parents to various locations around campus.
The weather turned from sunny to heavy rain in late morning, but the freshmen kept coming and the Chaos Control kept helping.
One thing the weather did affect was the afternoon welcome ceremony, which was moved from outdoors on the quad into the athletic complex upper gym. There, incoming students were welcomed by President Mark A. Tierno and other college officials. Every student also walked across the stage, shook hands with the president, announced their name and where they were from and put their signature in the class book.
"This is something we love to do: You start your college experience this way and then do the same thing at graduation," Westervelt said. "It's fun."
(Continued on Next Page)
Prev Next
Vote on this Story by clicking on the Icon