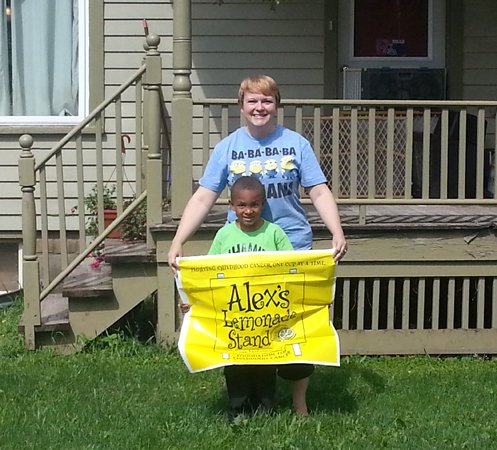 continued — Today, more than $80 million has been raised from Alex's Lemonade Stand to fund more than 450 research projects, create a travel program to support families of children receiving treatment and develop resources to help people affected by childhood cancer, Brandy said.
Jeremiah and his mother learned about Alex's Lemonade Stand while watching one of their favorite television shows, the cooking show "Chopped" on the Food Network, when chef Alexandra Guarnaschelli mentioned the foundation during an episode.
Brandy said the lemonade stand "seemed like a good way for little kids to raise money for a big cause."
Jeremiah Rutkowski's lemonade stand will be located at 12 Mill St. in Morrisville (right behind the Copper Turret restaurant) between 11 a.m. and 3 p.m. this Saturday, Aug. 16. People may pay what they want for the lemonade, zucchini bread and lemon cupcake offered, and all proceeds go toward Jeremiah's goal of raising $300 for cancer research.
Anyone who would like to donate to Jeremiah's fundraiser but are unable to stop at the stand, may text 85944 with the message "Lemonade E116344" to donate $10 to Jeremiah's stand, or go online to alexslemonade.org/mypage1116344 to donate on Jeremiah's fundraising page.
Ashley Wolf is an intern with the Cazenovia Republican. She can be reached at ashleyjcwolf@gmail.com.
Vote on this Story by clicking on the Icon