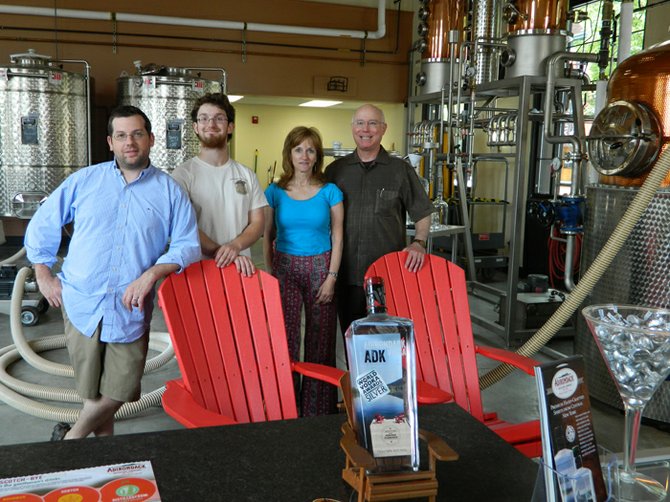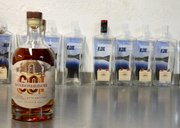 Cazenovia — Central New York is well-known for its hops and grape industries, and the beer and wine that comes from it, but is not as well recognized for its production of spirits. The Empire State is known, however, for its corn; and every Saturday morning at the Cazenovia Farmers Market, patrons can sample a new, local product made from 100 percent New York corn — hand-crafted vodka, gin, white whiskey and bourbon from the Adirondack Distilling Company.
Spirits may be an odd-seeming item for inclusion in a farmers market, but one that has made good sense both for the market and for Adirondack.
"Many weeks, our booth at the Cazenovia Farmers Market oversells our booth at the Syracuse Indoor Market," said Anita Elwell, Adirondack's director of marketing, who often operates the Cazenovia booth. "It's been a great reception; we've had a lot of fun and met a lot of great people."
Adirondack Distilling Company has been making its products for only 18 months from its facility — a former bank building — in Utica, and already has won numerous awards for its gin, vodka and white whiskey. But the company's reputation for smooth, quality liquor has preceded it to the point that when the Adirondack bourbon was released in mid-June, the ADC store had a line out the door and the entire first batch sold out in 24 hours.
"It speaks to the quality of our product," said Jordan Karp, Adirondack's master distiller.
"It's easy to sell that first bottle, but it's when people come back that makes the difference," said Adirondack President Bruce Elwell.
So how did this business all come about?
"What happens when a doctor, a lawyer and a political consultant get together? Adirondack Distilling Company is born," Elwell likes to say with a smile.
Elwell, Karp and Steve Cox discovered they had a mutual love for spirits, especially vodka, and a common vision to create a distilling business that used local ingredients, was gluten free and offered a different flavor profile than what was already on the market.
(Continued on Next Page)
Prev Next
Vote on this Story by clicking on the Icon