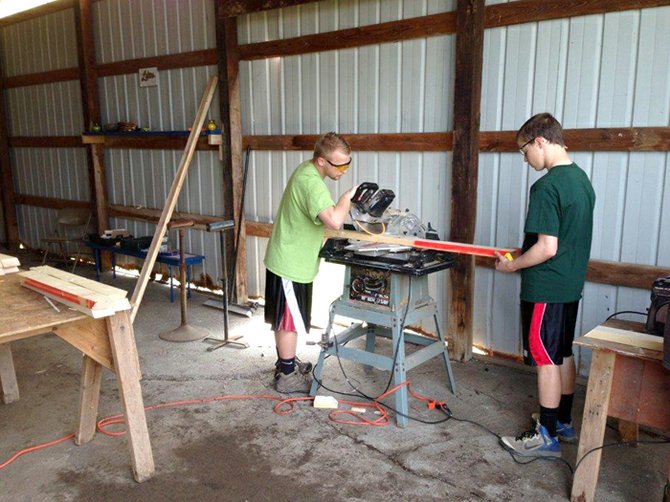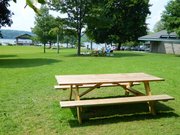 Village residents and visitors have been enjoying the newest addition to Lakeland Park this summer: four new, wooden picnic tables. They may not know, however, that these are not pre-fabricated, mass-produced pieces of furniture purchased by the village board, but hand-crafted pieces made and donated to the community by local teen Garret Hansen as part of his final Eagle Scout community service project.
"The picnic tables have been a magnificent addition to the park and will be an enduring testimony to Garret's service to our community as an Eagle Scout," said Mayor Kurt Wheeler. "The picnic tables have dove-tailed perfectly with the village's broader efforts to make our parks more welcoming and user-friendly."
Hansen, who graduated from Cazenovia High School in May, joined Boy Scout Troop 17 in Perryville in third grade. To reach the highest achievable rank of Eagle Scout, typically at age 18, candidates must complete a leadership project that exemplifies the qualities of an Eagle Scout learned over the years with the troop.
Hansen was searching for an Eagle project this year, but could not come up with an idea, he said. So he approached Wheeler, one of his 10th grade teachers, and, after talking with him as well as receiving input from his father, Craig Hansen, Village Public Works Administrator Bill Carr and Trustee Amy Mann, who also serves as chair of the Lakeland Park Restoration Committee, the picnic table idea was born.
Garret developed his own table designs, and, along with his father, wrote-up the supply list. He solicited and received a donation from Jeff Hunt of Chittenango Lumber, who gave two-thirds of the lumber needed as well as a discount on the remaining lumber necessary.
For the remaining funds needed, Hansen's fellow scouts at Troop 17 helped by collecting cans and donating the nearly $20 in refunds. As they returned the cans, Jessica Amidon, owner of Caz Cans, when she heard about the project, also donated $40. Garret's grandmother, Ann Gregoire, donated the cash needed to cover the balance.
(Continued on Next Page)
Prev Next
Vote on this Story by clicking on the Icon