Pompey — On July 29, police arrested a man regarding a July 2 graduation party in the town of Pompey. On July 2, at about 10:50 p.m., sheriff's deputies responded to the 7500 block of Ashlind Circle regarding a large party/disturbance.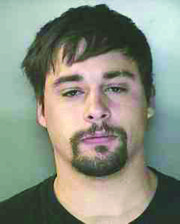 Upon arrival, they observed approximately 200 vehicles parked on both sides of Ashlind Circle, Winsbury Circle and along Henneberry Road. While in the area, deputies observed large groups of individuals walking through multiple yards. Deputies responded to 7598 Ashlind Circle and observed between 500 and 700 individuals engaged in a large outdoor party that was getting out of control.
Gregory York, 23, of 342 Cameco Circle, Liverpool, approached deputies in the street and advised that it was his parent's residence and they gave him permission to have a graduation party while they were out of town.
While waiting for additional units to respond, a glass bottle was thrown in the direction of a sheriff's patrol vehicle. Upon arrival of several other units, deputies responded to the back yard of the residence and directed everybody to leave because the party was being shut down.
While in the backyard, deputies observed approximately 500 to 700 people surrounding the pool and backyard area consuming alcoholic beverages. As additional police responded, people began jumping the fence to exit the backyard. Air1 responded to assist in lighting the area.
When the individuals were gone, multiple alcohol containers were observed throughout the backyard and in the swimming pool.
Deputies were able to contact the owner of the residence, Patricia McGinnis, 59, and advised her of the incident that occurred at her home. McGinnis stated she was nine and a half hours away and did not give York, her son, permission to throw a party at the residence. At that time, McGinnis advised deputies that she did not desire prosecution. The following week, McGinnis told deputies that her son was advised not to be on her property when the party took place and she desired prosecution.
York eluded police for about two weeks until he was apprehended July 29 at about 7:20 p.m. York was arrested for the class B misdemeanor of third degree criminal trespass and was arraigned in the town of Manlius court. York is currently being held in the Justice Center in lieu of $2,500 cash or bond.
Approximately 20 law enforcement officers from the sheriff's office, Manlius Police Department and New York State police responded to the large party.
Vote on this Story by clicking on the Icon