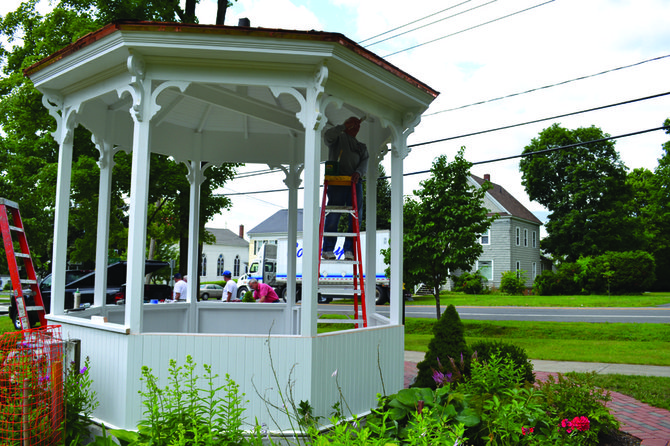 continued — The parts for the gazebo were built and painted at Mabe's house, about a block away from the gazebo, on Pleasant Street. The group started to build in April once the $700 worth of materials came in and finished off the construction of each part with a layer of wood primer, then two layers of finish. To carry the parts over to the structure's location, they used a cart to manually carry them over. The roof was carried by a village of Manlius tractor. In order for people to know who made the structure, the Silverhammers members' names are written underneath the railings, Mabe said.
"We wanted people to know who built this gazebo," Mabe said. "There weren't any names on the first. It would've been interesting to know who built it. We thought it'd be nice to let people know it was us, like a time capsule."
The Spade and Trowel Garden Club was worried that the building of the new gazebo would ruin the garden surrounding the flowers, but the majority of the plants were untouched. The Spade and Trowel Garden Club fundraised for years in order to contribute to the restoration of the gazebo, Stacy Merrill, president of Soda and Trowel said.
"We're so proud of our collaboration with the village of Manlius and the beautiful craftsmanship of the Silverhammers," Merrill said. "We hope village residents will be able to enjoy the gazebo and surrounding garden for another 100 years."
If anyone is interested in donating money to the gazebo, make a contribution to one of the four charities with the description of "result worked on by Silverhammers" as the description of the donation.
Ashley Wolf is an intern with the Cazenovia Republican. She can be reached at ashleyjcwolf@gmail.com.
Vote on this Story by clicking on the Icon