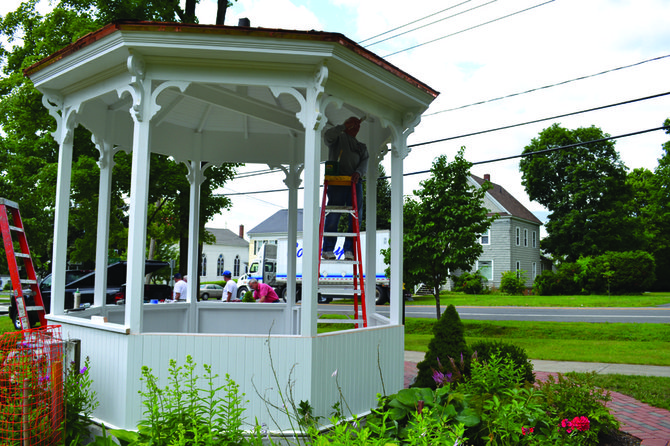 Manlius — In the 1880s, when Manlius was compiled of dirt roads, a small gazebo was built at the corner of Academy Street and East Seneca Turnpike. The gazebo remained standing for more than 130 years, but eventually needed many repairs. This summer, the tattered, worn-down gazebo has been rebuilt to look similar to the old one, but stronger and more stable.
The Silverhammers, a group of retirees with construction experience, worked to build the new gazebo. The Silverhammers work for non-profit organizations on construction projects for the organizations' clients or facilities. They also work for individuals in need of construction services. Instead of asking for a labor charge, the Silverhammers ask the organization to make a donation to one of their four charities, the Ronald McDonald House, the Samaritan Center, Vera House and In My Father's Kitchen.
Manlius Deputy Mayor Janice Abdo-Rott, the Spade and Trowel Garden Club and the Silverhammers met in April to discuss plans of either refurbishing or rebuilding the gazebo. The three parties knew the gazebo was an important Manlius symbol and wanted to restore the old version, but realized the structure needed to be completely redone. The gazebo had been worked on many times before, but was still falling apart; the bottom had started to rot and there was fear of lead paint, Paul Mabe, Silverhammers member said.
"Everyone hated to see it go down, it's iconic to the village," Mabe said. "The village was literally built around it. On the Manlius website, there are photos of this gazebo surrounded by dirt roads. I knew the gazebo needed to be worked on and there was a lot of pressure to keep the old one, but it was in really bad condition."
Although the new model looks almost exactly the same as its predecessor, the newly-built gazebo will be more reliable because it is made of Cyprus, a weather and insect resistant wood. The ceiling has also been built differently with a beam board to give the gazebo more detail and support, Mabe said.
(Continued on Next Page)
Prev Next
Vote on this Story by clicking on the Icon