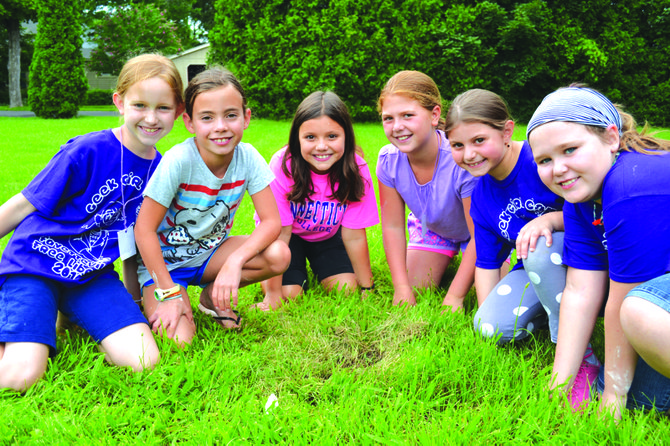 Fayetteville — It's not very common to find a public library that offers a week-long summer camp experience for kids. But the Fayetteville Free Library did just that from July 28 through Aug. 1, when it offered the first ever "Geek Girl Camp" for Central New York girls.
The camp, which was open to any girl in the Syracuse area entering third through fifth grade in the fall, was held to encourage girls to get excited and interested in science and technology, said Leah Kraus, director of community engagement and experience and a camp counselor at the FFL.
"It's a way to get girls excited about geeking out – making "geek" cool, making STEM [science, technology, engineering and math] cool, making it approachable and making it exciting," Kraus said. "We want the girls to understand that a geek isn't just some nerdy guy sitting at a computer all day. Geeks can also be girls, and it can be fun to be a geek and that STEM is something girls can make a career out of."
Throughout the week, the girls participated in a number of hands-on activities, including: experimenting with snap circuits while learning about electricity, learning the basics of computer programming through a kid-friendly program called Scratch, building trebuchets and launched water balloons while learning about physics concepts and experimenting with marshmallow peeps to learn the scientific method.
"My favorite thing we did is the oobleck – it's water and corn starch and it's mixed together," said Lilah Poole, 9, of Fayetteville. "And if you jab it, it gets really hard and acts like a sold, but if you just dip your fingers in it, it acts like a liquid. So we tried to run across a pool with oobleck without sinking."
What sets Geek Girl Camp apart from other science camps is the community building that took place on the library grounds during those five days. Not only is the FFL building a community within the girls who attended the camp, but it was able to either bring in or Skype with a different speaker every day who works in a STEM field. Guest speakers included a woman who works for Facebook, a web developer and a SUNY ESF professor who researches human deforestation in Senegal.
(Continued on Next Page)
Prev Next
Vote on this Story by clicking on the Icon