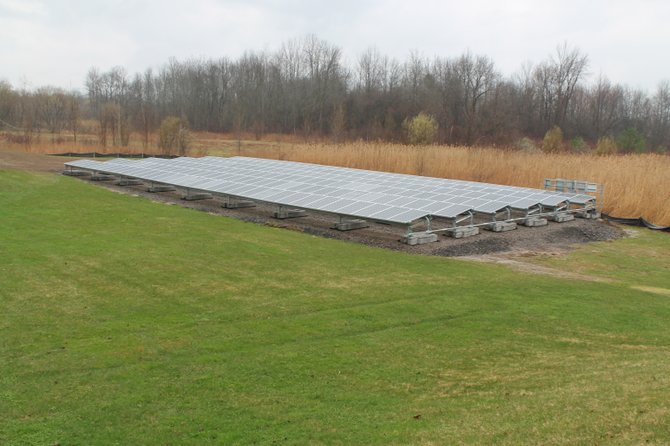 continued — The system unveiled last week in Clay is comprised of 396 high-efficiency solar panels, each with a capacity of 250 watts. The solar panels and related electrical equipment convert sunlight into power which can be used to run lighting and electrical equipment within the town's facilities.
The use of such technology is cleaner and more efficient than fossil fuels, saving not only money, but the environment, as well. Warner Energy's Zach Dresher said it is estimated that every year, for at least the next 25 years, the clean, renewable energy generated by the system installed at Town Hall will offset the emission of roughly 45 metric tons of greenhouse gases. This is equivalent to more than 5,000 gallons of gasoline, 104 barrels of oil, the electricity usage of over five homes, or the carbon sequestered by planting 9.7 acres of pine forest.
The project will be funded through a NYSERDA grant and a Power Purchase Agreement (PPA), which, according to Drescher, offers a financing solution that eliminates up-front costs to town taxpayers. Ulatowski said no local tax dollars were used to build the system, and Warner Energy will take care of all of the maintenance of the array; the town only acts as the host. The agreement signed will last for the next 20 years.
In all, Ulatowski said the savings would amount to roughly $16,000 a year for the town.
"We're looking at about $1,200 to $1,800 a month in energy savings," he said.
The system is equipped with a monitoring system that will be kept in the lobby at Town Hall that will allow the town and Warner Energy to ensure that the array is providing the energy it's supposed to. Visitors to Town Hall can see the readouts on monitors outside the town clerk's office.
Ulatowski was thrilled to see the project realized after working on it for several years.
"This is one of the most exciting things the town of Clay has done in a long time," he said.
Vote on this Story by clicking on the Icon