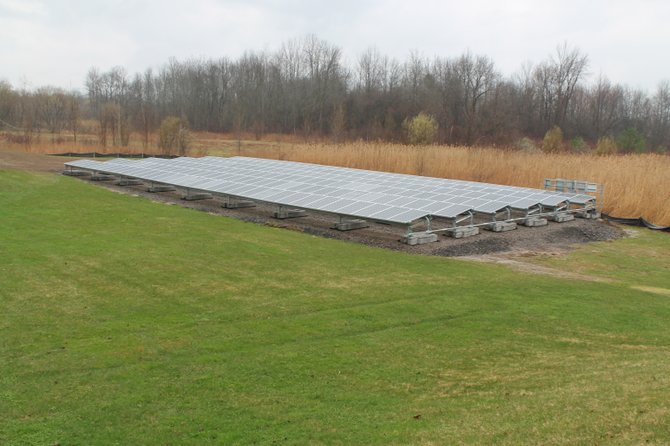 Clay — The irony wasn't lost on Damian Ulatowski.
On Earth Day, April 22, when dozens of residents and local dignitaries gathered to hear the Clay supervisor talk about the town's new solar panel array, the sun was nowhere to be seen.
Despite the gloomy weather, the town unveiled its new 99kW solar array at Town Hall and the highway garage to reduce and stabilize energy costs. The project was launched through a partnership with the New York State Energy Research and Development Authority (NYSERDA) and Warner Energy LLC, a Clay-based business that designs and develops solar project for clients nationwide.
"Renewable energy is something that not only the town should look into, but we as a country should look into," Ulatowski said. "Fossil fuels are only going to last so long. We're going to have to provide an alternative."
Ulatowski said he began researching the idea a couple of years ago, but met with resistance because of the Syracuse area's weather.
"I've been told that it wouldn't work in a northern environment, especially in the Syracuse area. There's just not enough sunlight to make solar energy work effectively," he told the Star-Review last year. "So I sought out companies that had the technology for solar panels that could function not just with the sun but with light of any kind, and Warner Energy is just such a company. They've created technology that's 85 percent effective with any kind of light."
Headquartered in Liverpool, Warner Energy designs and develops solar projects for clients throughout the US and distributes solar modules and related components to solar installers. Warner is a subsidiary of the Drescher Company, which also owns the Cicero-based Paul deLima Coffee Company. The Warner Energy campus on Morgan Road includes a technology development laboratory, solar module manufacturing lines, meteorological monitoring station, solar module testing and demonstration arrays, with a focus center for research, development and manufacturing of new renewable technologies.
(Continued on Next Page)
Prev Next
Vote on this Story by clicking on the Icon