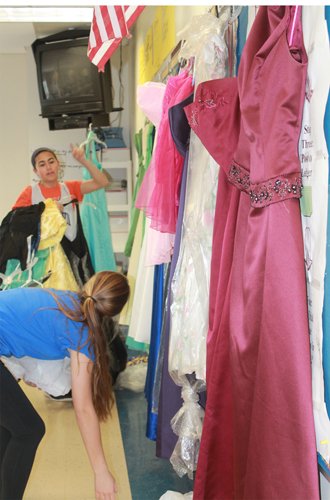 Cazenovia — Looking for a dress for the upcoming spring formal dance season? Then the Cazenovia Posh Affair is what you need.
The Cazenovia High School Fashion Marketing Class is collecting gently used dresses for students to wear for either the Junior Prom on May 10 or the Senior Ball on June 6. Dresses have been sent in from all over the town, including from students, Cazenovia Central School faculty and local families. The dresses can either be donated or loaned to the class to be borrowed by students.
The project, known as the Cazenovia Posh Affair, will run from Monday April 14 through the Senior Ball in June. The Fashion Marketing Class has already collected and inventoried more than 50 dresses, and the class would like to organize this service into an annual event.
The mission of the Fashion Marketing Class, led by John Dermody, is to provide free dresses to students who prefer to borrow rather than to spend money on a dress worn only once. After prom/ball, the dresses will be returned and dry-cleaned before storing for next year's use.
The community can help in many ways. In addition to collecting dresses, cash donations can be made to the class for dry-cleaning and to purchase tickets for students to attend the formal events.
Many different individuals and groups have contributed to the Cazenovia Posh Affair to make it a success. Cazenovia FFA students built a rack to display the dresses, and Miss Beyer, a Home and Careers teacher at the high school, has offered her classroom for the dresses to be displayed in.
Before and after school hours, students will be able to browse through the inventory of dresses and get sizing recommendations from Miss Beyer. Also, her clothing and textiles class will be available to mend any of the dresses that may require it.
The generosity and support of the school community has been outstanding, and the students are applying the skills they learn in class to develop something that contributes back into the community.
If you decide to borrow a dress for the upcoming season you can either contact Mr. Dermody by email (jdermody@caz.cnyric.org), or visit the website at tinyurl.com/CazPoshAffair.
Ryman Seeley and Erin Paglia are students in Cazenovia High School Fashion Marketing Class.
Vote on this Story by clicking on the Icon