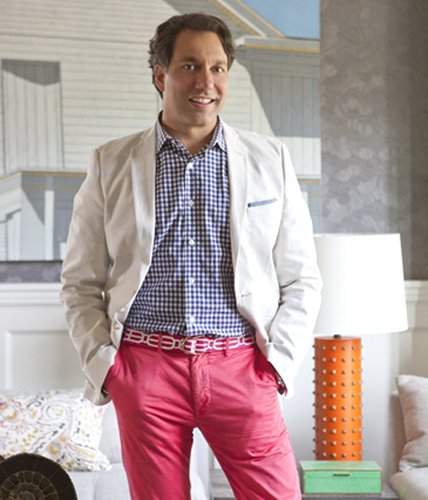 Cazenovia — Cazenovia College's 41st Annual Student Fashion Show, "Urban Chic," will take the stage at 6 p.m. Saturday, April 26, at The Landmark Theatre, in Syracuse. Special guest Thom Filicia, interior designer, author, television personality and chief creative officer of the New York City-based design firm, Thom Filicia, Inc., will offer remarks to an estimated packed house.
Filicia, a Syracuse University interior design alumnus, is a visiting professor at the School of Art & Design. As founder of Thom Filicia, Inc., he is the driving force behind a distinctive line of home furnishings, Thom Filicia Home Collections, and a to-the-trade showroom, Sedgewick & Brattle. His New-American style has earned him extensive praise from notable clients in the entertainment, fashion, finance, hospitality, media and sports industries, as well as recognition from Elle Décor ("A-List Designer"), House Beautiful ("Top 100 Designers") and House & Garden ("International Tastemaker"). His work has been featured among the pages of InStyle, O, People, The New York Times, Vogue Home, USA Today, and other national and international publications.
"Having Thom as our special guest is very exciting for our students and the community alike," said Megan Lawson-Clark, assistant professor, fashion studies and fashion show director. "His work is very creative and he is a fantastic example of entrepreneurship for our students."
Filicia gained fame when he served as the interior design expert on the Emmy-Award winning hit show, Queer Eye for the Straight Guy, host of several shows on the Style Network and featured talent on HGTV Networks. Additionally, he has appeared on popular television shows such as Good Morning America, Ellen, Late Night with Conan O'Brien, The Today Show, and The View, among others. More information on Filicia's written works, special projects, and a sampling of his portfolio can be found atthomfilicia.com.
"Urban Chic" tickets are currently on sale. Admission is $17 for adults, $12 for students, and free for children under 5. Prior to the main show, Filicia will be a part of a V.I.P. reception at 4:30 p.m. which will include reserved seating, open bar and heavy hors d'oeuvres for $100 per ticket.
To order tickets, visit cazenovia.edu/fashionshow, email fashionshow@cazenovia.eduor or call 655-7043.
Vote on this Story by clicking on the Icon