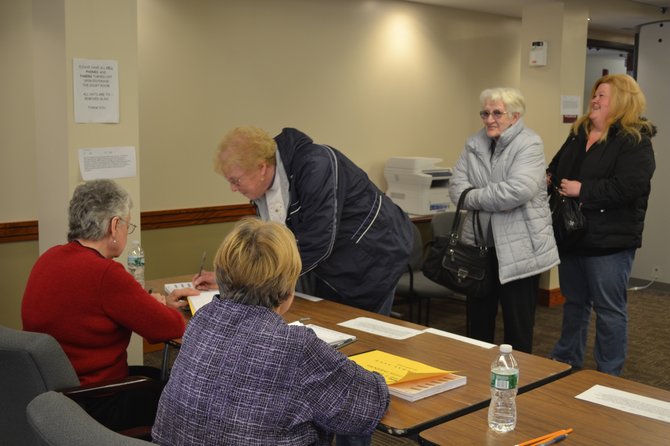 continued — "I've lived here my whole life and they've always been there for me anytime I need an East Syracuse cop," said Luann Fullana. "Whenever I call, they're right there. They've done wonders for our village. I honestly think they're worth the extra taxes."
Even the village board is still split – at its April 2 meeting, Deputy Mayor Barbara Quonce and Trustee Carol Para voted against the creation of the local law which abolishes the police department.
"I think the residents will suffer," Para said. "I just don't see it as a good move right now."
Changes on the horizon
According to DeWitt Police Chief Gene Conway, the DeWitt Police Department has already begun the transition process to ensure the implementation on Jan. 1 goes as smoothly as possible. He said that while the two departments do many of the same things, the DeWitt Police Department will spend the next eight months making sure that the new officers are up to speed on their record keeping procedures and other policies that may differ.
"Many of the operations are similar, such as our radio procedure, and obviously we're both following the same set of laws," said Conway, who has been a part of other mergers in his career, such as a combination of units within the Onondaga County Sheriff's Department and a merger between the Syracuse Police's and sheriff's department's abused persons units. "I'm very confident that come January 1, I don't think the residents of the village or the town will notice any difference from the way things are operated right now."
And DeWitt Town Supervisor Ed Michalenko said that while he believes the elimination of the East Syracuse Police is the right decision for the future of the village, he's a little sad to see it go.
"To me, it's kind of a bittersweet moment," Michalenko said. "It's a sad commentary on our times; that the costs of police services are probably too great for small communities. I do believe that the smaller departments are closest to the people."
Vote on this Story by clicking on the Icon