DeWitt — At the request of the Dewitt Republican Committee, I met with John Katko to discuss his views on a number of issues related to the 24th Congressional race. The committee, and even our non-political neighbors, have been concerned that candidates are too often being defined by the negative ads and sound-bites provided by their opponents. This is an effort to have Katko define who he is and how he will represent the people.
Congress overall has poor ratings. Where do you see the problems, and what can be done to solve them?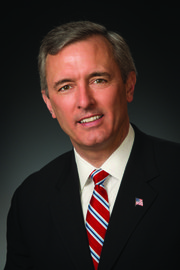 Congress is far too polarized. Unless the individual members learn this, there will be no improvement. Once elected, a senator or congress member must represent all members of his/her district. Compromises can be made without sacrificing principles. Life isn't all or nothing, and government does not represent the people if the legislature believes otherwise. We can find common ground, just as Tip O'Neil and Ronald Reagan did.

Our national debt is burgeoning at an unsustainable rate. Raising the debt without curtailing spending is not fiscally sensible or logical. Delaying huge debts for future generations is immoral.
The Affordable Care Act was rushed into law before the flaws were removed. It should have been a bipartisan effort. It does affect every citizen, not just one party. Even its proponents acknowledge it needed a great deal of work. The reason we have this largely unworkable law is directly attributable to partisan politics. Someone needs to step up and be a rational and pragmatic voice for the people.
What do you see as the most pressing issues facing Congress in the near future?
The economy is still laboring. We need more jobs, especially in the private sector. All of the programs are there already to facilitate a better economy, but not enough is being done.
(Continued on Next Page)
Prev Next
Vote on this Story by clicking on the Icon