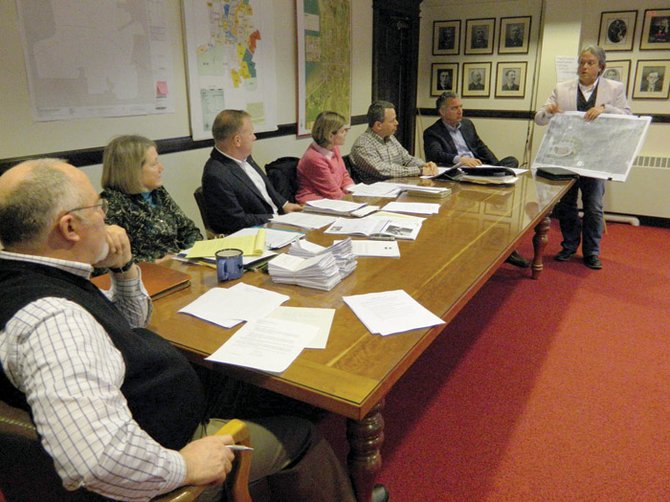 continued — Burrell said that there are currently trails that exist on his property that the public walks and places where the public fishes, and, since it is his private property, he is currently liable if someone gets hurt. "Public access is certain in my financial best interests," he said.
Wheeler also said he has asked professional planner Dan Kwasnowski, who worked for the village on the Village Edge South zoning regulations and design guidelines, to review Burrell's project and write a brief analysis of the concept. Village Attorney Jim Stokes is also reviewing the plan to see how it fits within the village Comprehensive Plan, and the village has sent the plans to the Madison County Planning Board for its review as well.
Other than seeking further details on the possible public green space access and the schedule of how this issue will move forward in the village board and planning board, the Mill Street and Chenango Street neighbors present at the meeting had no other comments or questions.
Between now and the public hearing on May 5, Burrell said he will continue working on the necessary paperwork and environmental studies for his proposed project.
Wheeler said that after the May 5 public hearing, if the village board decides it has received enough information about the project they may vote on whether to approve or reject the proposed zone change. If they approve it, the project goes back to the village planning board for site plan review; if they reject then Burrell must decide whether to abandon the idea or completely revamp it and try again.
All files, submissions and public input concerning Burrell's Chenango Street project are available to the public at the village municipal offices. Wheeler said the board continues to welcome further public input on the project.
Jason Emerson is editor of the Cazenovia republican. He can be reached at editor@cazenoviarepublican.com.
Vote on this Story by clicking on the Icon