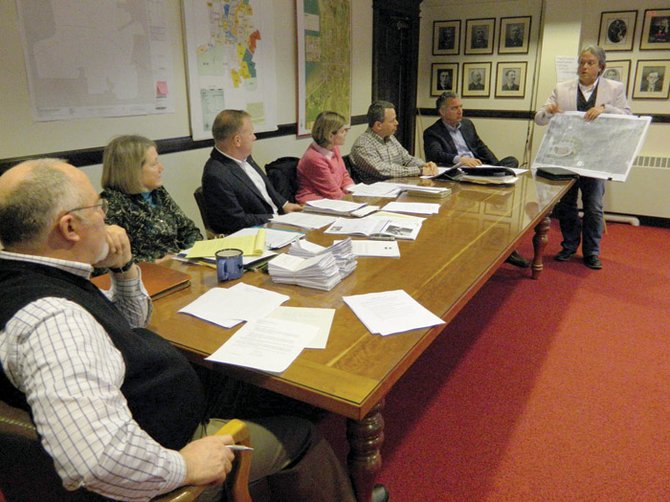 continued — "There will never be headlights coming up and shining into these homes," he said.
Parking will be in the existing lot on the northern, creek-side of the building, which is also where the restaurant entrance will be; the lighting will be only one light shining on the restaurant entrance and a motion-detected light by the parking light.
He said the ambient noise level of the creek is 60 decibels, and any noise or music that comes from the restaurant will be at a maximum of 60 decibels — "so it will never be heard," he said.
Any garbage generated by Circa — which is not much since Hart composts and recycles most of her garbage — will fit in the building's current three blue plastic trash cans, "it is not a dumpster," and will be moved down to the parking lot, he said.
The major item discussed at the meeting was Burrell's intention to donate the land behind the parking lot and building to the village or the Cazenovia Preservation Foundation for use as a public-use trails and public lands.
In response to some neighbor concerns about the creation of some sort of public "park" next to their homes, Mayor Kurt Wheeler said it would be more accurate to call it "public access green space," and that such public use of land is necessary for any possible zone change to a Planned Development (PD) zone, as is currently being contemplated.
"We wouldn't even be thinking about it as a PD if there was not an additional public benefit," Wheeler said. "I think there's a lot of interest of tapping into that [green space]. My position, similar to South Meadows, is that if the village has an opportunity to acquire public use lands, then that is a good thing to do."
Vote on this Story by clicking on the Icon