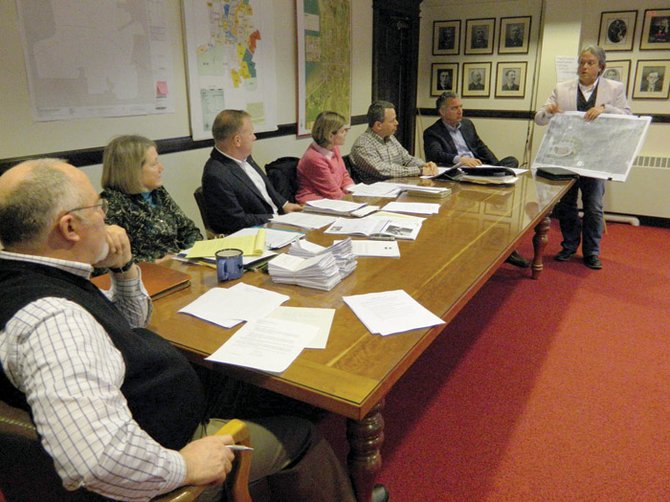 Cazenovia — The Cazenovia Village Board of Trustees has scheduled a public hearing for May 5 to discuss the requested zone change for Eric Burrell's building at 4 Chenango St., which would, if approved, allow Alicyn Hart to move her restaurant Circa to that location. The hearing was scheduled last week after Burrell gave the board on update on his proposed building expansion project.
Both the project proposal and the zone change request have caused concerns from the Mill Street and Chenango Street neighbors since it was announced earlier this year, while just a few weeks ago the village planning board offered a negative recommendation on the zone change, deciding in a 4-1 vote that the idea was not in line with the village Comprehensive Plan.
During the village board's April 2 meeting, Burrell, along with his attorney George Conway, informed the board that they will continue to move forward with the project and seek the board's approval. Earlier that day they had submitted a required environmental study of the proposed project with the village.
"We will be submitting things throughout the month … even though there was a negative recommendation from the planning board," Conway said.
Burrell gave a brief presentation to the board in which he explained recent changes he had made in his project plans as a way to better respond to and hopefully alleviate some of his neighbors' concerns. He said he plans to make the southern entrance to the circular drive on his property an employee-only, one-way entrance, which will prevent traffic and headlights from impacting the neighbors, which are located on the south and southwest sides of his building. He also plans to build a six-foot-high solid fence along the southern edge of the property which, being on a high grade, will be the equivalent of a 20-foot fence.
(Continued on Next Page)
Prev Next
Vote on this Story by clicking on the Icon