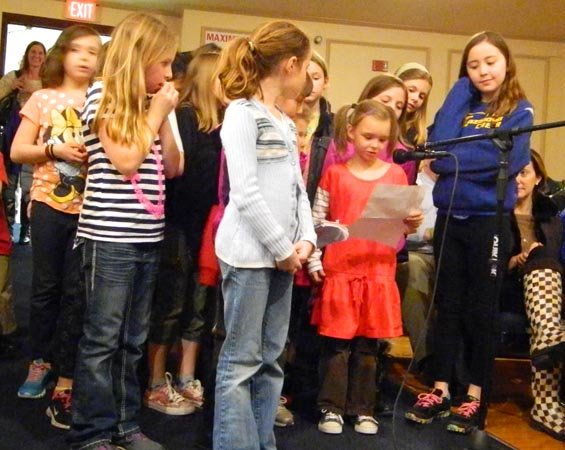 continued — First grade teacher Beth Ann Kempf cited and quoted from seven education articles stating that reducing teachers and increasing class sizes has proven to be "detrimental" to students.
Jim Giardina, a district transportation department employee, read from a petition that the entire department signed and submitted to the board. One of the proposed staff cuts includes a transportation department mechanic, whom Giardina characterized as "key to the overall operation" of the department.
"To lose that important piece of our successful team does not make sense to us," Giardina said. "This particular situation … makes sense on the board level but in real life it's not."
Giardina also accused district administrators of "acting in bad faith" in their recent contract negotiations with the mechanics union, saying the mechanic position reduction was never discussed during contract talks.
Dubik and school board members all thanked the attendees for coming and commenting, and said their budget decisions were extremely difficult and even painful.
"We have looked at everything," Dubik said concerning what they are proposing to cut and why. "And when I say we have looked at every single thing [to cut], we have looked at every single thing … The state is not letting up on its mandates and we have to administer those mandates."
BOE President Pat Vogl said the preliminary budget discussed in March was based on "middle of the road" assumptions until the state legislature finalized its budget. The state's budget was so lean on school aid that the current budget as explained April 7 is now "the worst case scenario."
BOE Member Jan Woodworth said cutting staff positions is painful: "It hurts; it hurts all of us here, and we don't take it lightly," she said.
BOE Member Lisa Lounsbury, elected last year, said that during this, her first budget process, she has learned that state mandates and state aid cuts are what is consistently corroding Cazenovia's annual budget. She said the funding is inequitably distributed throughout the state, with the city and downstate communities receiving most of the aid and upstate getting practically nothing.
Vote on this Story by clicking on the Icon