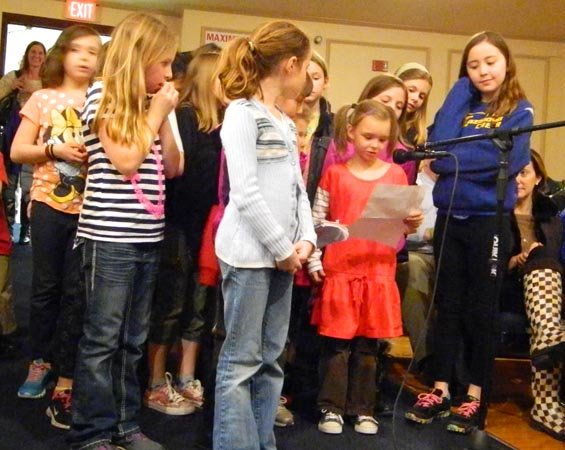 Cazenovia — With the passage of the state budget last week and final state aid to school districts now known, the Cazenovia school district budget received $200,000 less in aid than it expected. This fact, combined with the limited revenues allowed to the district through local taxes due to the state tax levy cap mandate and the dwindling amount of district fund balance reserves available to plug budget gaps, means that the 2014-15 district budget will reduce district staff by 9.4 positions (full-time equivalent positions) rather than the six previously planned.
Overall, next year's district budget is more dismal in outlook with more difficult decisions needed to be made than anyone hoped or anticipated.
This was the message conveyed to close to 100 Cazenovia school district residents — students, parents, teachers, district staff and concerned community members — at the school board's special budget meeting on Monday, April 7.
"This is a revenue problem, it's not a problem on the expense side," said Assistant Superintendent Bill Furlong, who gave a 30-minute presentation on the budget, what it entails and how the district and school board arrived at the final proposal it has.
The budget as presented April 7 is changed little from the board's preliminary numbers released in March, with the exception of the increased number of staff reductions.
The current total budget is $26.5 million, which is a $76,000 — or .29 percent — increase from last year. The state's Gap Elimination Adjustment for 2014-15 takes $925,409 away from the district, while total state aid received by the district is $293,000.
The budget includes revenue from local taxes of $168,237, or a 1.1 percent tax levy increase from last year, which is the maximum allowed under the state-mandated tax levy cap. The district is also proposing to use $750,000 of reserve account funding to help fund its 2014-15 budget.
(Continued on Next Page)
Prev Next
Vote on this Story by clicking on the Icon