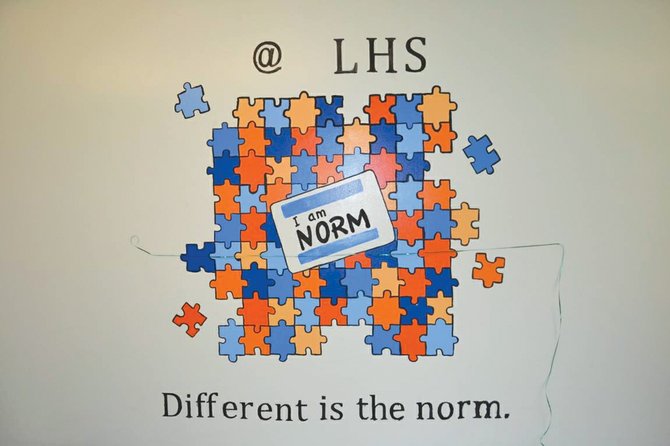 continued — More than 100 kids cycle in and out of the meetings; the group offers open enrollment, so any student can attend any meeting.
"When they join, they're asked to write down three things that make them Norm — [things like] I am creative, I am a good friend, I am Norm," Sheridan said. The goal is to make people aware that they're more alike than they are different. "You don't have to be your label. You don't have to be who everyone thinks you are. That's what we're trying to do."
Bull stressed how damaging labels can be to kids, even "positive" labels like "football star." He pointed to Reed Derrenbacher, a Westhill senior and quarterback who recently took his own life.
"We knowingly and unknowingly put kids on a pedestal," Bull said. He noted that doing so puts tremendous pressure on students. "At their heart, schools should be a place where everyone feels welcome and valued. We're all different."
For Sheridan, I Am Norm offers an opportunity to continue to reach out to disenfranchised and isolated students.
"For me in high school, I was the jock, and I saw people getting picked on by my teammates, and I felt like that wasn't right," he said. "I didn't see myself as different from anyone else, so I would reach out to those kids in high school. I saw them as valuable. So this program is a perfect fit for me."
The program is a perfect fit for anyone, Bull said, pointing to the wide variety of students who participate.
"We've done a good job of getting a real cross section of kids involved, from the kid in the 12-to-1-to-1 or the 15-to-1, to the kid that's… involved in student government and everything else, to the kid that's the captain of the wrestling team to the kid that's homeschooled," he said. "It's a real cross section."
Vote on this Story by clicking on the Icon