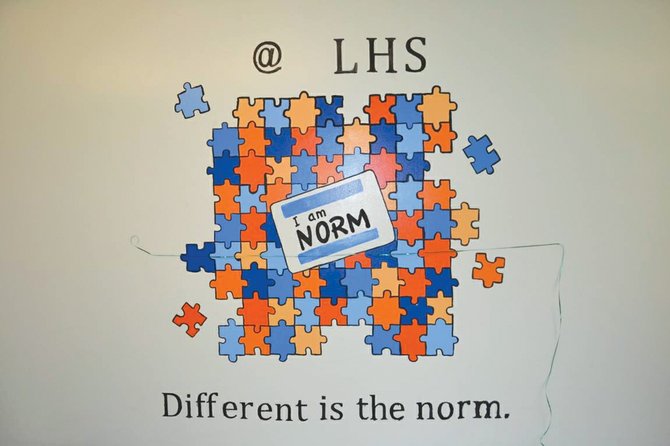 continued — "Through this campaign, we hope to raise awareness about inclusion, provide opportunities for youth to share their ideas about inclusion and promote inclusive practices in schools and communities," said I Am Norm's website. "We want to encourage the acceptance, respect, and authentic inclusion of all youth, including those with disabilities, in schools and communities."
The group came to LHS with the help of Tom Bull, a former special education teacher in the district who is now a professor at Syracuse University. Bull reached out to LHS's special education department about launching a program in the spring of 2012. It's led by special education teacher John Sheridan, with help from music teacher Chris Spring and numerous others.
"To me, there is something so simple about feeling comfortable in where you go to school and having a place to belong. We're hoping this message becomes part of the culture," Spring said. "The message is so simple. It stays with people even when they leave the building."
I Am Norm meets regularly, at least once a month, to discuss ideas about inclusion and tolerance. They hold events throughout the year, including game days during Academic Advisement, an upcoming karaoke night and presentations, both at LHS and throughout the district, to educate students about their message. They also painted a mural made up of puzzle pieces outlining the characteristics that make them "Norm." The mural, which is in the entrance hallway of the school, provides a lasting message, Spring said, of Norm's ideals.
"People see it in the hallway every morning when they walk by," she said. "It's not just a piece of paper. It's a lasting legacy."
And the mural has room to grow so that more students can contribute.
"We plan to fill in the puzzle pieces as more people join and our seniors are replaced by the younger grades," Sheridan said.
Vote on this Story by clicking on the Icon