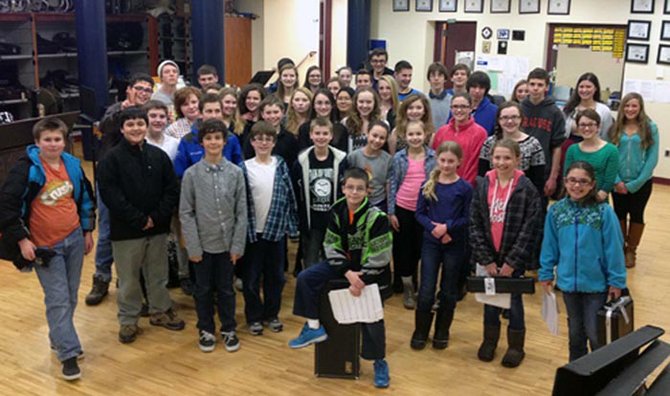 Forty-six Cazenovia Central School District students attended the Madison County Music Educators Association's Spring All-County Music Festival, which was held March 14 and 15 at Stockbridge Valley School.
Students auditioned in January for placement in the featured ensembles, which included the fifth- and sixth-grade band, the seventh- and eighth-grade chorus, the high school chorus and the high school orchestra.
Students from Cazenovia who participated are:
Fifth- and sixth-grade band:
Christina Brown. Molly Dolan, Regan Davenhauer, Olivia Emerson, Gavin Decker and Dylan Anderson.
Seventh- and eighth-grade chorus:
Betsy Chanatry, Shao Demyttenwaere, Kathryn Kielbasniki, Megan Schwartz, Chloe Adler, Kyler Hathaway, Olivia Hodge, Charlie Mann, Mackenzie O'Dell, Alexis Sherwood, Kate Sosville, Jackson Wright, DeLaney Yoms, Angelo Annotto, Ronan Defati, Nolan Frisbey, Ian Melvin, Zach Simms and Jon Streeter.
High school chorus:
Helen Barna, Janie Kempf, Emily Kielbasinski, Alli Karmis, Sydney Levinson, Julia Wilson, Mitchel Britton, David Kempf, Timothy Kempton, Connor Carroll, Joseph Stehle and Justin Streeter.
High school orchestra:
Maddie Filkorn, Rebecca Pfohl, Brendan Coffey, Meredith Shephard, Grace Wheeler, Colton Kubiniec, Saulo Ferreira, Alec Boone and Kiersten Skinner.
Vote on this Story by clicking on the Icon