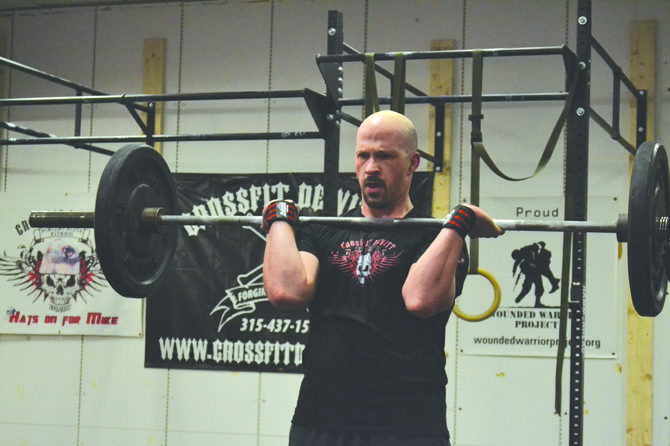 DeWitt — As recently as seven years ago, very few people in the Central New York area had ever heard of CrossFit.
When CrossFit DeWitt opened at Sports Center 481 in 2008, it was the first CrossFit gym within a 70 mile radius. Tex Jones, who co-owns CrossFit DeWitt with Joe Commisso, said people get "addicted" to the short, high-impact fitness classes and can't help but come back for more.
"It's not just a gym, it's more of a family, and it's probably the best form of fitness I've ever come in contact with," Jones said, who is a head coach at the facility, which is now located in Shoppingtown Mall. "There is no such thing as a typical workout – the workout of the day is constantly varied. We vary the weight, we vary the movements and all of our movements are functional."
CrossFit began in Southern California in 2000 and was developed to offer a full-body workout that incorporates interval training, Olympic weightlifting, plyometrics, power lifting, gymnastics and more. An average workout at CrossFit DeWitt is about 15 minutes. The shorter the workout, the more demanding, said Jones.
You won't find any treadmills or elliptical machines at CrossFit DeWitt. Most of the gym is composed of open workout space. "Nobody wants to be a hamster. We build machines- that's what we do here," Jones said.
And since CrossFit DeWitt began as the sole CNY CrossFit gym in 2008, about 12 other CrossFit-affiliated gyms have opened across the area, several of them located in the city and its northern suburbs. "There have been at least six that have opened in the past year," Jones said.
The sudden interest in CrossFit isn't unique to the Syracuse area – in 2005, there were only 13 CrossFit-affiliate gyms nationwide. This year, there are more than 7,000, according to a report on channelsignal.com. In 2013, the estimated net worth of those CrossFit-affiliated gyms totaled $2 billion. And the interest in CrossFit is continuing to rise.
(Continued on Next Page)
Prev Next
Vote on this Story by clicking on the Icon