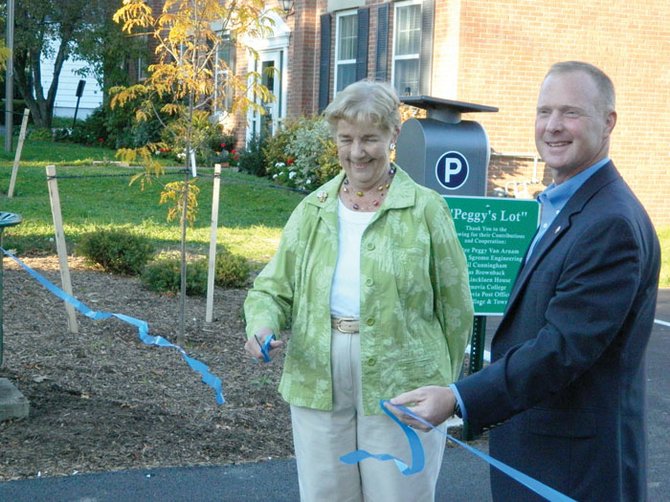 Cazenovia — The sign is up, the ribbon is cut and the new village parking lot on Lincklaen Street has been officially dedicated by its namesake and prime creator, former Trustee Peggy Van Arnam.
Mayor Kurt Wheeler officially unveiled the sign naming the lot "Peggy's Lot" during a ceremony last Friday, Sept. 27, at which about 20 people — village officials, local residents, and friends and family of Van Arnam — attended. Van Arnam was present for the dedication, and cut the ceremonial ribbon to officially open the lot for business.
"Never in my wildest imagination did I think I would ever have a parking lot named after me," Van Arnam said. She said she hopes the lot will help attract more village visitors and downtown business customers who will spend lots of money in village shops, which will help the village government keep taxes low.
"This was really a team effort, but every team needs a leader," Wheeler said. He said Van Arnam took that role with her "unending campaign" to make the parking lot come to fruition. "It's amazing when an idea becomes a reality," he said.
The property at 22 Lincklaen St. in between the Catherine Cummings Theater and the U.S. Post Office was purchased by the village in November 2012 specifically with the intention to build a new village parking lot. The house on the land was razed in July and village Department of Public Works crews spent the month of August constructing the lot. During the Sept. 3 village board meeting, the trustees approved the final resolutions necessary to complete the new parking space, including setting the fee, approving a handicapped spot and designating the official name. A soft opening for the lot occurred the week of Sept. 9.
The lot will have 23 parking spaces, which will cost $1 per hour from 8 a.m. to 6 p.m. Monday through Saturday, with free parking on Sundays, holidays and every night from 6 p.m. to 2 a.m. No overnight parking will be allowed. Users can also pay to park in smaller time increments, with 15 minutes costing 25 cents or 30 minutes costing 50 cents.
(Continued on Next Page)
Prev Next
Vote on this Story by clicking on the Icon