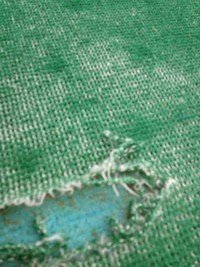 continued — "We're in a real pickle now, because that turf really needs to be replaced," Keegan said. "If it's not replaced, the facility is going to have to be closed."
The capital project also includes security upgrades at the high school.
"The part of the project that often gets overlooked, and I think it's one of the most important elements, is installing intruder locks in all classrooms at the high school," Keegan said. "In our post-Newtown security survey, the number-one thing our teachers wanted was the ability to lock their classroom doors in a hurry. So this upgrade allows those doors to be shut and locked from the inside with any school-issued key, not necessarily the key for that classroom. So if you're running down the hall, you can duck into a classroom and lock the door with any school-issued key and be safely locked inside. And you can get in with the key to that particular room, the specific classroom key. This will keep our students and our staff safe, so we're really excited about that."
The district will hold a public information session at 7 p.m. Wednesday, Oct. 9, at the district office. Voter registration will take place from 4 to 8 p.m. that day, as well as during regular business hours leading up to the referendum vote. The vote itself will take place from 6 a.m. to 9 p.m. Wednesday, Oct. 16, at the district's regular polling places. If approved, construction is set to begin in May. Keegan said it should be completed by December 2014.
For more information about the referendum, visit nscsd.org/district.cfm?subpage=49410.
Vote on this Story by clicking on the Icon