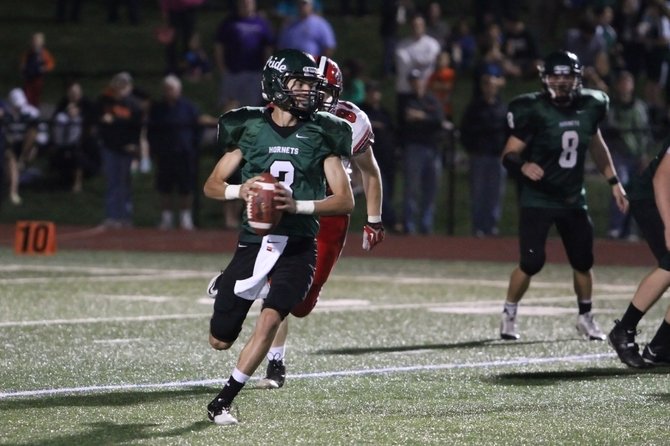 Manlius — Healing from a broken collarbone, Luke Krizman was merely a spectator as Fayetteville-Manlius lost a 38-36 classic to Baldwinsville in last fall's Section III Class AA semifinal.
But when the two sides gathered again Friday night, Krizman occupied center stage and provided the punctuation marks as the Hornets this time prevailed over the Bees, 49-37.
It was the 5-foot-8, 160-pound senior that returned the opening kickoff 90 yards for a touchdown. And it was Krizman returning to catch a short pass from Jake Wittig and, with a few nifty moves, turn it into a clinching 58-yard scoring play with 3:15 left.
"Luke is the most electrifying playmaker in Section III," said F-M head coach Damien Rhodes. "He knows how to step up in big moments."
And it didn't take long - 14 seconds, to be exact - for Krizman to deliver one of those big moments as the large Homecoming crowd at F-M looked on.
Taking the Bees' kickoff at his own 10 near the sideline, Krizman changed gears, broke a couple of tackles and then sped up the middle, all the way to the end zone.
"We made a wall, and then I found a seam and just took off," said Krizman.
By the time Krizman claimed Wittig's short pass near midfield late in the fourth quarter, a whole lot of action had taken place, F-M trying numerous times to get away, but B'ville pulling back into the fray with the kind of potent passing game it has not displayed in a long time.
Nursing a 42-37 lead, F-M faced a third-down-and-seven on its own 42. At first, it looked like Wittig's throw to Krizman would fulfill the task of picking up a first down and keeping the clock moving.
But Krizman had other plans. He took off down the sideline, picking up some blocks downfield, and then cut back to the middle, fighting off the tackle attempts from B'ville's secondary and battling past the goal line.
(Continued on Next Page)
Prev Next
Vote on this Story by clicking on the Icon