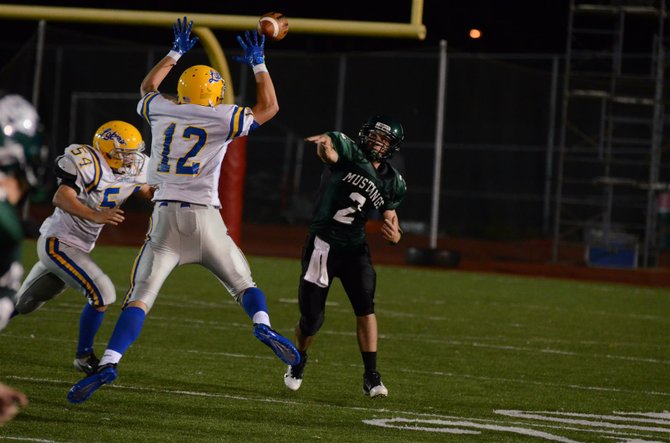 continued — Ian McGloon also scored on a two-yard run early in the second quarter after the Mustangs recovered a short kickoff at the Laker 25-yard line, and Cazenovia found itself trailing 28-7. But the Lakers had a lot of time to make up that ground, and started doing so before halftime.
Hopsicker scored TD's on a pair of 19-yard runs, one 19 seconds after the first Mustang score and one with 7:05 to go in the half to cut the deficit to 28-14. Cazenovia also earned a safety with 3:39 to go in the half after a high snap flew over the head of Mustang punter Ross Filtch into the back of the end zone.
Two costly penalties stalled a promising Laker driver after the free kick, allowing the Mustangs to go into halftime still in front 28-16. But Mustang head coach Joe Fiacchi knew Cazenovia was poised for a comeback.
"You never feel comfortable against Caz," Fiacchi said . "We knew they were going to make a comeback and make a run at it. Our kids had that high in the first half and I think we plateaued after that."
After Neidl told his kids to "keep grinding" during halftime, Hopsicker and company quickly rushed to the Mustangs' 25. But another costly penalty turned a manageable fourth-and-one into a much more difficult fourth-and-six.
Luckily for the Lakers, Hopsicker was on his mark in the second half, connecting on a first down pass and then lobbing a pass to a wide-open Ryman Seeley for the 23-yard touchdown. Just three minutes into the second half, the Lakers had cut the deficit to five, 28-23.
"We felt a little momentum going and we knew we could beat them with the spread," Hopsicker said.
The teams traded scores on the next two ensuing possessions, with Keegan going four yards for a TD to make it 35-23, only to have Hopsicker cut loose again and find the end zone from 23 yards out.
Vote on this Story by clicking on the Icon