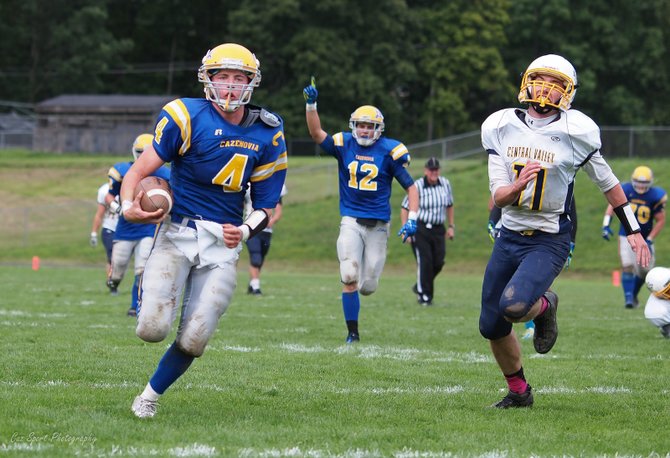 Cazenovia — In many different ways, the Cazenovia football team was not acting like itself in the first half of Saturday's home opener against Central Valley Academy at Buckley-Volo Field.
True, the Lakers were putting points on the board - but so was the Thunder. And CVA was also accumulating 267 yards on the ground, pushing around a Cazenovia defense unaccustomed to such struggles.
It wasn't until the third quarter that the Lakers took control, on both sides of the ball, and it went on to defeat the Thunder 49-20, moving to 2-0 on the season and atop the Class B East division standings again.
CVA is the newly combined school composed of the former Ilion and Mohawk districts. In its gridiron debut on Sept. 6, the Thunder rolled past Mexico 30-9, almost exclusively focusing its attack on the ground.
And that's exactly what CVA would do against the Lakers, too, a task made easier by the fact that two of Cazenovia's top linemen, Cody Westfall and Reed Lucas, missed the game due to injuries. The Thunder would not throw a single pass in the first half.
From a close formation, the Thunder would pound the ball up the middle, and then, when the Lakers packed it in, it went outside on traps and counter plays. In one of them, Tyler Brown cut loose for an 80-yard touchdown late in the first quarter, responding to Cazenovia's initial score on Kevin Hopsicker's 27-yard pass to Alex Devine.
Hopsicker's second long pass to Devine, covering 33 yards, set up Andrew Vogl's nine-yard scoring run on the first play of the second quarter, which made it 14-6. Again, CVA answered, Brown going 29 yards to set up Mykel Farley's 16-yard TD run and Travis Mead's two-point conversion, which tied it, 14-14.
Mike Nourse broke loose for a 28-yard run, leading to Hopsicker's one-yard scoring plunge on fourth-and-goal midway through the period. CVA used the remaining five-plus minutes to drive the length of the field, only to get stopped inside the 10 as the clock ran out on the half.
(Continued on Next Page)
Prev Next
Vote on this Story by clicking on the Icon