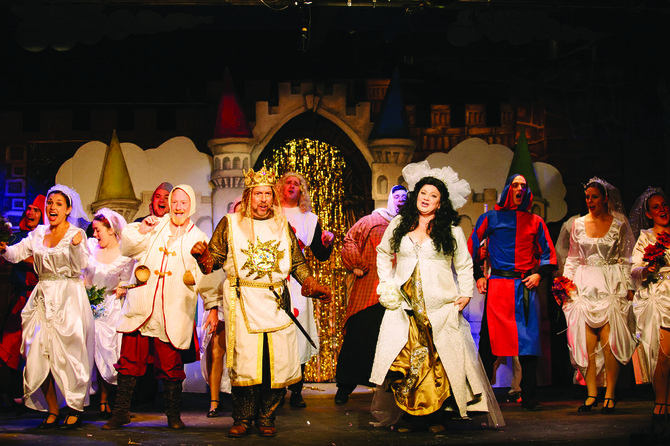 DeWitt — During a climactic scene on opening night, "Spamalot" leading man Bob Brown misfired. Twice.

Portraying King Arthur, Brown was trying to toss a grenade over a short scenic flat to blow up a killer bunny.
As Brown's errant pitches missed their mark, the stage crew went ahead and sounded an explosion. On his third try – although following the detonation – Brown finally cleared the scenery with his grenade. The audience went wild, and well it should have.
The great thing about a weird and wacky show like "Spamalot" is that – no matter what happens – it's funny.
Inspired by the 1976 movie "Monty Python and the Holy Grail," the 2005 Broadway musical received several Tony nominations before embarking on a lengthy national tour which recently ended allowing "Spamalot" to be produced by amateur troupes.
So CNY Playhouse bills this as the CNY amateur premier of "Spamalot," but it's anchored by professionals. Starting with the leads – the venerable Bob Brown and his wife, the winsome Cathleen O'Brien Brown, who plays the Lady of the Lake – and continuing with a solid cast of proven performers, the show is enlivened by a bevy of comely showgirls led by dance captain Allie Villa and an enthusiastic male ensemble.
Director Dustin Czarny also assembled an all-star lineup behind the scenes including music director Abel Searor, choreographers Stephond Brunson and Anthony Wright, costumer Barbara Toman and set designer Navroz Dabu. That talented team laid the groundwork, but the "Spamalot" cast carries it off, earning raucous applause and laughter all night long.
The script by Python's Eric Idle recycles bits such as insolent French soldiers, knights who say "ni," a wooden "Trojan horse" rabbit and coconut-shell horse gallops. But the best moments here are ad-libbed lines with local allusions. There's a surprise image of the Carrier Dome; there are cracks about cold winters and mentions of Billy Fucillo and the troubled ShoppingTown Mall.
(Continued on Next Page)
Prev Next
Vote on this Story by clicking on the Icon