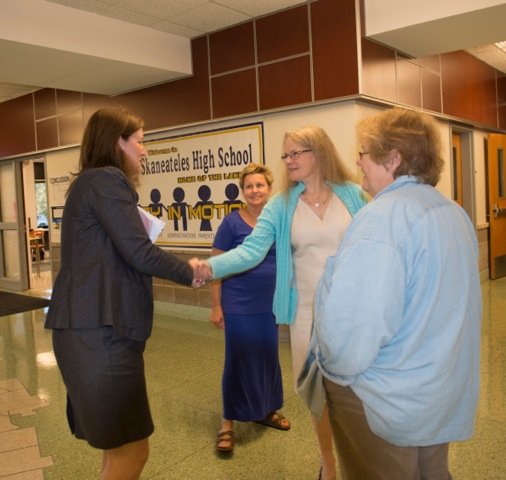 Before greeting students on the first day of school Wednesday, teachers had their own "first day," where they were given praise, encouragement, insight and challenges.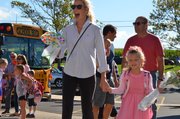 The day started with rousing musical performances by talented students, and by a group of teachers who played in the municipal band this summer.
And then staff members were welcomed back by Board of Education President Kathryn Carlson, who stood at the same podium where she once welcomed staff as assistant superintendent and as interim superintendent. She talked about the start of a new year, change and the difficulties and opportunities caused by change.
"As I look out over you, my friends, I see that you have different levels of tolerance for change. Some of you have that look of a student who welcomes the start of a new school year: order again, the smell of freshly sharpened pencils, the look of a pristine notebook … a fresh start.

"Others look more like those students who are mourning the loss of freedom with all its possibilities, are dreading the need to get up early every morning … and are worried about how the new year will play out," Carlson said.
Like last year, this school year brings more than an average amount of change: in leadership, in schedules and in testing and curriculum, Carlson and Interim Superintendent of Schools Judy Pastel both acknowledged.
While change is constant and sometimes challenging, the need for collaboration "is something that does not change," Carlson said.
Working collaboratively to improve is something the district does well, both Pastel and Carlson said.
"Long before the state coined the phrase 'college and career ready,' we collectively developed our mission statement that says we will 'provide students with the knowledge and problem-solving skills necessary to contribute and adapt to an ever-changing world,'" Carlson said.
(Continued on Next Page)
Prev Next
Vote on this Story by clicking on the Icon