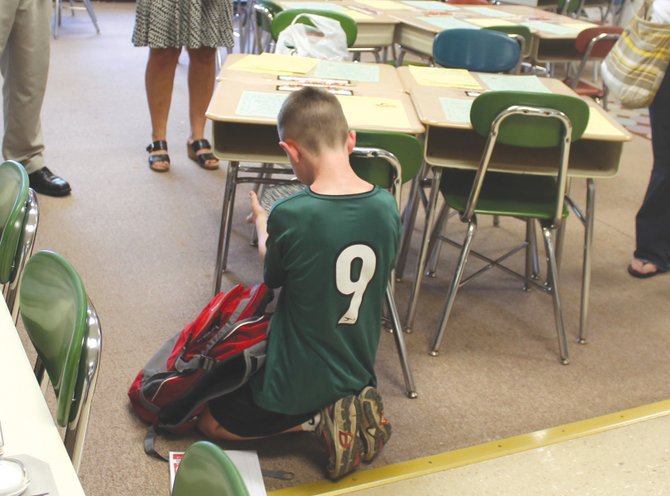 Liverpool — School is once again underway across Central New York. North Syracuse students headed back Wednesday, Sept. 4, and Liverpool schools opened their doors Thursday, Sept. 6. Both districts had some changes in store for students and staff; read on to find out what's new.
New supers
Both Liverpool and North Syracuse introduced new superintendents over the summer, under very different circumstances.
In Liverpool, former Executive Director for Secondary Education Mark Potter, who has been with the district since 2007 in various administrative capacities, was named as the permanent replacement for Dr. Richard Johns, who announced his retirement in 2012. Johns left the district in March for medical reasons and was replaced with Interim Superintendent Edward "Pete" Backus.
Potter served as an athletic director and principal at Altmar-Parish-Williamstown before coming to Liverpool in 2007 as the coordinator of academics and acting athletic director. At Liverpool, Potter was also the principal of the FOCUS program during the 2011-12 school year. Budget cuts closed down the program after just a year. He moved into central administration last year after Ellen Kuno's retirement, taking over as executive director of secondary education.
Potter was one of 20 applicants, 12 of whom were accepted by the BOE, according to board President Patricia DeBona-Rosier. Five candidates were determined to be viable, and the board then narrowed the field to three. Potter was selected as the best for the job in part because he already has an intimate knowledge of the district.
"His knowledge of Liverpool and his passion for Liverpool set Mark apart," Rosier said. "As an internal candidate, he already knew all the players, as well as the district's strengths and weaknesses. This allowed Mark to have a different kind of entry plan than that of other candidates. Having worked in the district for six years in a variety of different capacities and jobs, he had already demonstrated his versatility and his ability to effectively inspire others. Mark's student-centered philosophy drives all of his decisions and he has a genuine commitment to help Liverpool reach its fullest potential."
(Continued on Next Page)
Prev Next
Vote on this Story by clicking on the Icon