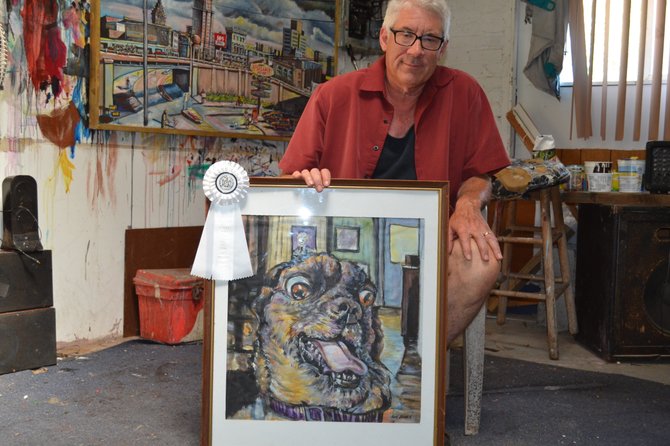 continued — Corinne Cerminaro was equally ecstatic that the picture of Buster, who she adopted three years ago, was chosen. Cerminaro explained that while Buster looks goofy and happy in the picture, the first five years of his life were just the opposite.
"He was born in Tennessee in a breeder/ hoarder's house," she said. "The dogs were eventually seized and brought to a kill shelter, where they have gas ovens and stick a bunch of dogs in there to kill them. There are a lot of people around the country that will go and save these dogs, and Buster was saved by a woman from Central New York."
Cerminaro said Buster came to CNY and lived with the woman in Bernhards Bay for a year before she and her husband adopted him.
"Nobody wanted him – he just didn't look healthy," she said. "He looked so horrible, we weren't sure if we should take him, but he jumped right in the car."
The Cerminaros soon discovered that Buster's health problems stemmed from a case of C Difficle, a bacterium that can cause symptoms ranging from diarrhea to life-threatening inflammation of the colon, which she believes he got from eating rotten meat.
"We kept treating him regularly and we still do, but he's much better now," she said. "We're proud of Ken and Buster – he's the cutest dog and Ken made a very special piece of art. Buster is the nicest and sweetest dog, despite everything he's been through. He's a superstar."
Vote on this Story by clicking on the Icon