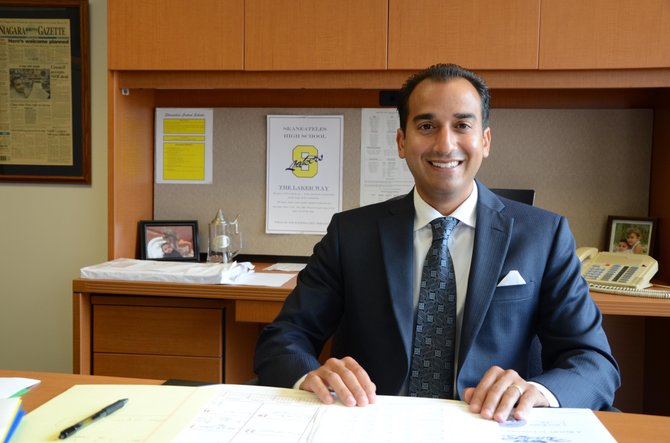 Gregory Santoro's path to becoming a high school principal started back when he was a 10th grade student at East-Syracuse-Minoa high school.
Henry Santulli, the principal of ESM at that time, gave him advice that motivated him and has stuck with him years later.
"He said to me 'Mr. Santoro I want you to run for class officer and I want you to be the president all the way through senior year, you have the qualities of a leader.' And then he said: 'Furthermore, I see you one day in my chair.' That was powerful for me. I remember exactly what he said," Santoro said.
Three years later, his sense of leadership also led him to do something unique at graduation. After delivering a speech, he arranged to have "Let's Get Together" by the Youngbloods play through the public address system while he proceeded to shake the hands of all 276 students in his graduating class.
Santoro was appointed over the summer by the board of education to replace Georgette Hoskins as the new high school principal in Skaneateles. He started on Aug. 14 and has been working with Hoskins, who is retiring after more than 22 years with the district, to meet teachers and administrators and prepare for the new school year.
Santoro comes to Skaneateles from the Cortland school district where he was executive principal at the junior-senior high school, a school with grades seven through 12. That job consisted of overseeing three other principals that were each in charge of different grade levels. He also served as an associate principal in the Ithaca school district.
After graduating from Niagara University with a master's degree in education, Santoro worked in the Niagara Falls school district where he made the switch from teacher to administrator at 28 years old.
(Continued on Next Page)
Prev Next
Vote on this Story by clicking on the Icon