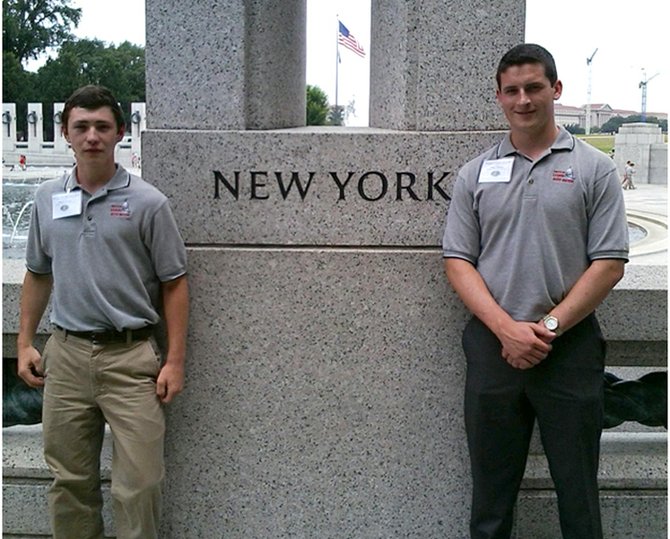 continued — At Boys State, which was held at the SUNY Morrisville campus in June, Evans learned about the structure of city, county and state governments. Participants were elected to various offices and participated in legislative sessions, court proceedings, law-enforcement presentations, assemblies, bands, choruses and recreational programs. The students also met with officials of various government agencies who spoke about their duties, were instructed in drill (marching) and physical training led by United States Marines.
After returning from Boys State, Evans applied to and was chosen to attend Boys Nation in Washington in late July. The week-long event of 98 "senators" — two from each of 49 of the 50 states — was held mainly at the Marymount University campus. There, the students were sworn in as senators and split into different sections and political parties – as a way to create typical political gridlock. They then arranged their Senate to emulate the U.S. government: they elected a president, vice president and president pro tem of the Senate; they chose members of committees and subcommittees; and they presented, debated and voted on bills written by the student senators.
Due to the "pretty long process" it takes to consider submitted bills, Evans said he was pleased when the senate considered the bill he wrote and brought to the conference: a bill to ban vermiculites in large amounts until the Environmental Protection Agency creates process to detect and regulate it. Vermiculite is a clay-like phyllosilicate commercially used in many building materials that sometimes contains asbestos.
Evans' bill was passed through subcommittee and committee and brought to the Senate floor, where it was defeated. He also spoke briefly on the floor in support of his bill.
"I'm glad the Senate looked it over and considered it," he said.
Boys Nation was not work inside a conference room, however. Participants also took numerous field trips to locations around Washington, including visits to the National Mall, Capitol Hill and the national American Legion headquarters. Evans said he and his fellow New York state senator also met with staffers from the offices of U.S. Senator Charles Schumer and Kirsten Gillibrand and discussed the senators' current legislative efforts. "I'm really interested in politics and I liked that a lot," Evans said.
Vote on this Story by clicking on the Icon