There were plenty of spectators on hand for the ninth annual Skinnyman triathlon held in Skaneateles on Saturday, but this year they had something out of the ordinary to cheer for.
Identical twins Jack and Nolan Willis of Fayetteville and Shane Lauer, of Phoenix, Md., who are all affected by Duchenne's muscular dystrophy, competed and completed the race.
This was made possible with help from a team of volunteers and special accommodations through the charitable organization Athletes Serving Athletes which helps disabled youth compete in running and triathlon events.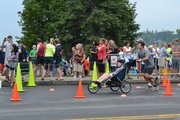 "It gives the kids a chance to get out and do something they wouldn't otherwise be able to do instead of just sitting at home playing X-Box or watching TV," Matt Willis, the twins' father said.
The three boys were assisted through the course with help from volunteers and special equipment provided by Athletes Serving Athletes. They were towed through the swim portion on small boats ahead of the rest of the competitors. For the cycling portion they were able to sit on a special seat mounted to the handlebars of a bike and for the running portion they were pushed in specially designed "strollers."
"It was cool to see everybody that was here, I felt like I was a part of the race," Jack said.
The boys were met with applause and support from the crowd everywhere they went. At the end of the triathlon, a group of about 30 runners had gathered behind them, which had not been planned ahead of time, to support them and finish together.
"They were saying 'good job' and clapping for us up until the end," Jack said.
The Willis family also runs Two Smiles One Hope, a locally-based foundation that raises money for Duchenne's muscular dystrophy awareness and research. The foundation's biggest fundraiser of the year the Cazenovia Hillbender Cycling Festival, a bike race/ride, will be held Sunday, Sept. 15 in Chittenango Falls State Park.
(Continued on Next Page)
Prev Next
Vote on this Story by clicking on the Icon