I have lowered taxes in both of my roles, and to create jobs, you need to lower taxes so businesses can thrive. In regards to crime, I have written several pieces of effective legislation, one of which came in first place in New York state in the public safety category that addresses quality of life issues.
What is one thing people would be surprised to learn about you?
I come from an extremely poor family, the youngest of eight. Everything I have was earned through hard work. The hard lessons I learned as a young boy have helped me throughout life. My mother is my inspiration. She was bedridden for the last 12 years of her life, yet provided for her eight children. Even though we had little, she always gave to others first. Just before she passed away, she told me to help people. My path in life has put me in a position to do just that, and with the values my mom instilled in me: honesty, respect, family and hard work.
Lorene Dadey
Biographical information: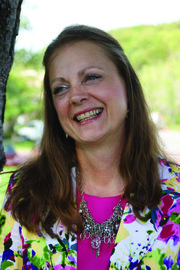 Dadey has been married for 35 years to her husband, Patrick. She is the mother of four children, Brenton, Eric, Kailene and Ryan. Dadey is self-employed with husband and they have owned Sunshine's Coffee Shop for 34 years.
Why are you running for office?
I am frustrated that more concentration is not being given to our everyday residents and small businesses.
Why are you the best candidate for this office?
I relate to the struggling working families because I am self-employed. Also, my children are grown, which allows me the time to dedicate to this position.
What are the major issues facing your district and what will you do to address them?
Tax relief, jobs, education and crime. I will work to bring tax relief to property owners and small businesses. I will promote small business growth, which means job creation. I will be an advocate for education. I will also work on quality of life issues.
Vote on this Story by clicking on the Icon