On Nov. 5, voters in the Eastern suburbs will vote for county legislator. In the seventh district, Democratic candidate Lorene Dadey is challenging Republican incumbent Danny Liedka. The candidates ran against each other in 2011.
And in the tenth district, Republican incumbent Kevin Holmquist is running unopposed for a seat in the legislature, where he's served since 2005.
Danny Liedka
Biographical information: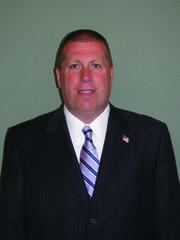 Leidka works as a senior executive for Marriott International and as a television broadcaster for Time Warner Sports. He's the former mayor of East Syracuse and the current seventh district county legislator. Leidka has been married 11 years to his wife, Kimberly, and they have two children, Luke, 6, and Jack, 1.
Why are you running for office?
I love to help people and solve problems. I have proven myself at several different levels and now I can take my skill set to 26,000 people.
Why are you the best candidate for this office?
First of all, I understand who I work for – the people in the seventh district. It is a great honor to serve. I lead with actions, not empty promises. I have a list of accomplishments that have addressed the common problems the plague our state. My constituent service is impeccable. I am open-minded and take votes with my heart and the interest of my constituents.
What are the major issues facing your district and what will you do to address them?
Jobs, crime and taxes. In regards to jobs, I am a creator. As mayor, I created over 300 of them in a poor village. As the current legislator, I have sponsored many initiatives that will create jobs. The Township 5 project is an example. It will create hundreds of jobs and address aging infrastructure, at the same time, at no cost to the taxpayer. I sponsored an item in the 2014 budget for economic development that will help stalled small business projects or new development and bring them to fruition.
(Continued on Next Page)
Prev Next
Vote on this Story by clicking on the Icon