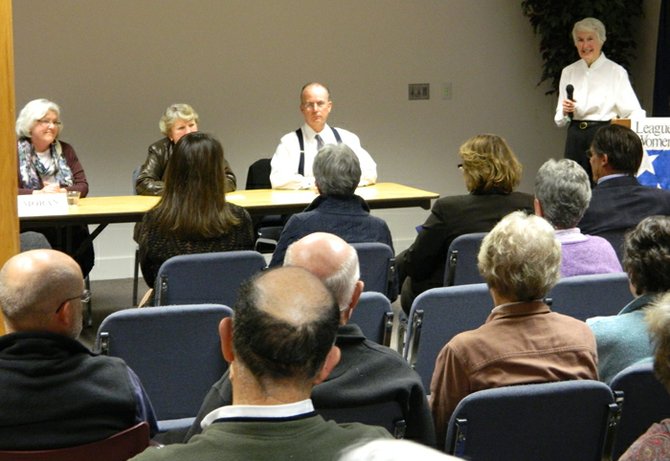 Cazenovia — Extra chairs had to be brought out at the Cazenovia Public Library community room last Wednesday, as more than 50 people attended the "Meet the Candidates" event hosted by the League of Women Voters. Candidates for town and county offices each explained their experience and positions, while a panel of town officials discussed the two town ballot proposals facing Cazenovia voters on Nov. 5.
The event was a non-partisan gathering hosted by the LWV, an organization that works to encourage informed and active participation in government while never endorsing any candidates, said LWV President Wendy Taylor.
Town candidates Bill Zupan, for supervisor, Pat Race and Kristi Andersen for town board, and Connie Sunderman for town clerk — all unopposed on the ballot — gave three minute statements to the attendees, as did Madison County Sherrif Allen Riley, also unopposed.
The one contested race for Cazenovia voters this year, that for county clerk, heard from Republican Denise Roe and Democrat Ann Jones as to who they were, why they were running and why they believe they should be elected.
Both candidates are highly educated and experienced. Both have master's degrees, while Roe has been deputy county clerk for eight years and Jones has worked at the county board of elections for 10 years.
Roe, who lives in Hamilton, spoke first. She said she understands the issues facing the county clerk first-hand and knows how a raise in taxes affects fixed-income earners. She said it is "imperative" that the county clerk have fiscal management and records management experience, among other talents. "The county has invested in my on-the-job training," she said.
Jones, who is from Fenner, said she has experience updating and improving government tasks through new technology — as was done at the board of elections — as well as keeping the public informed of the changes and what they mean. She said part of the county clerk's job is to "demystify" all the changes going on at the county level for county residents. She said her hope for the future if elected would be to reach out to the public to keep them informed, and to offer better public service, such as offering county clerk hours more than just 9 a.m. to 5 p.m. on weekdays — which is when most people work and therefore cannot come to the office to get things done without taking time off of work.
(Continued on Next Page)
Prev Next
Vote on this Story by clicking on the Icon