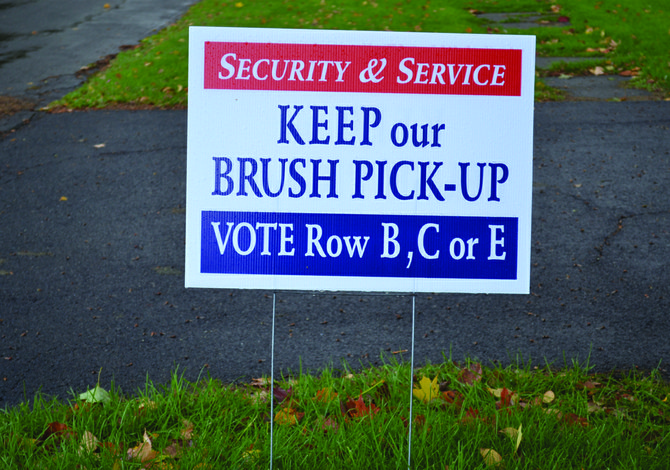 DeWitt — Although most political signs pertaining to the Nov. 5 election have been up for weeks, a new batch of signs were put up by Republicans within the last 10 days and Democrats are calling them "fabricated." These signs read "Save the DeWitt Police Department" and "Keep Our Brush Pick-Up," and town supervisor Ed Michalenko says that both topics are based on the self-interest of the Republican candidates and aren't real issues.
"For them to go out and make these signs is enraging, it's immoral, it's unethical, it's unscrupulous - all of those different words because it's a totally fabricated issue," Michalenko said.
Matt Wells, chairman of the DeWitt Republican Committee, said that the messages on the signs aren't lies - they're the two main issues on the Republican platform for the election. Republicans are concerned about two main topics: the possibility of police consolidation and a change in brush pickup services.
"We didn't say in our signs that they're questioning the integrity of the police or highway department or that they're looking to abolish the police or change the brush pickup tomorrow - those things aren't on the table," Wells said. "I don't know that they will be, but they certainly won't be when we're in the majority. We'll be less certain of that if they win."
The election in DeWitt boils down to one thing: which party wins the majority on the town board. Currently, Republicans are in the majority, four to three. But in November, three Republican seats will be up for grabs, and the majority could easily be taken over by Democrats. Irene Scruton, Tony Albanese and Lynn Simonetta-Blair are the Republican candidates and Kerin Rigney, Joe Chiarenza and Jamie Frank are the Democrats.
Michalenko said that in his five years as supervisor, he's never denied the police department request for anything. Last month, the board voted unanimously to increase the police's work force from 38 officers to 39.
(Continued on Next Page)
Prev Next
Vote on this Story by clicking on the Icon