continued — The bottom line is that I really don't look at myself as a candidate, but as a concerned resident of the town of Pompey who only wants the very best for my town and the people who live and visit here. I believe if the town is doing well, that's a good thing for the people and it's a good thing for me. Being involved is the key to success, and I have been fortunate to have been on both sides of the issues that are facing our community. I have the experience, I am proactive in the community, I know the issues and I am willing to deal with them head on as a true leader should.
What are the major issues facing the town and what will you do to address them?
First, the people's trust and connection with Pompey town government. I believe in open transparent leadership in government. I will work to improve communication between the town boards and the people they serve. I believe that when it comes to leadership, qualification is what matters, not affiliations.
Next, the wasteful spending of tax dollars. I will cut wasteful spending on services which could be done in-house. I will look to state grants and aid to relieve the tax burden on the town. And finally, I will bring the budget under control with fiscal responsibility.
I plan to make community growth and improvements a priority by always leading by example in our community, bringing the voice of the people back to town government and by implementing continual reviews and revisions of the master plan.
What is one thing people would be surprised to learn about you?
I try to live my life by three simple principles: truth, honor and integrity.
Carole Marsh
Biographical Information: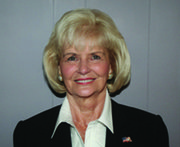 I am a lifelong resident of Pompey and a graduate of Fabius-Pompey High School. I am the widow of Fred Marsh, mother of a daughter, Carole Ann and I have two granddaughters.
Vote on this Story by clicking on the Icon